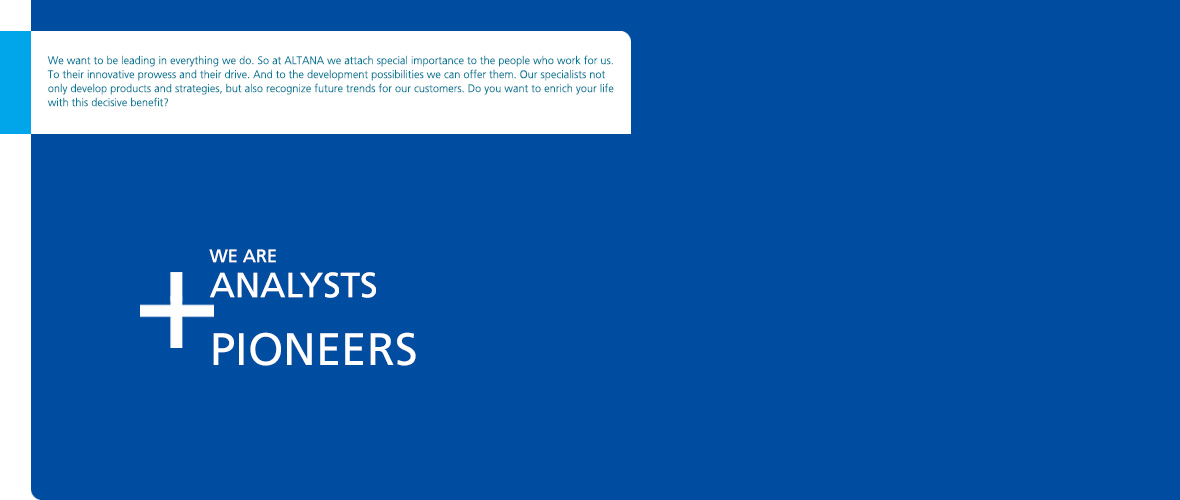 The ALTANA Group develops and manufactures high-quality, innovative specialty chemical products. With us, you can help shape many important details of the world of the future. Our four divisions BYK, ECKART, ELANTAS, and ACTEGA have set worldwide standards in their markets. Our innovative products enable companies to develop technologies of the future today, technologies that make life easier, safer, and more comfortable. With sales of around 2.7 billion euros, we are one of the world's most innovative, fastest-growing, and most profitable chemical companies. We currently employ more than 6,700 people who have good ideas for the world of the future. Discover your decisive plus for your future. Bringing you many advantages.

BYK Additives & Instruments is one of the world's leading suppliers in the field of additives and measuring instruments. Around the world, the additives of BYK ensure that coatings and plastics obtain precisely the desired properties and the correct quality.
Maintenance Manager
Your task structure
Summary:
Work with Production, EHS, & Engineering to support continuous improvement activities, develop Reliability Centered Maintenance program to support plant Operations
Duties and Responsibilities:
Supervisor multi-discipline team of mechanics, electricians, instrument techs, and contractors to perform preventative maintenance, routine, and emergency repairs
Utilize and upgrade current CMMS to drive metrics towards a more preventative maintenance focused culture
Develops and manages KPIs to measure department strategy and goals
Manage planning, schedules and spare parts management for the department
Develops department budgets and operates within budgets
Analyze root cause of equipment failures and plans corrective actions to achieve efficient and consistent production processes
Provide direction to improve equipment and systems monitoring
Ensures all operations are carried out in a safe manner in accordance with regulations and company policies and ensures all employees use and follow company requirements for PPE and safety gear.
Ensures cleanliness and good housekeeping standards are met in all work areas.
Ensures compliance with all company policies and procedures, regulations and corporate guidelines on business ethics.
Responsible for staffing, training and supervision of production employees
Performs and participates in incident investigations as required
Participates in emergency response as required and according to training level.
Assists other departments as required to ensure overall performance of the plant.
Ensures all employees are treated fairly and equitably by established and well-communicated guidelines.
Updates Process Safety information data management and MOC systems as replacements are made
Support all Environmental, Health, and Safety programs, policies, and regulations
Work with Engineering and Facilities Department to help manage multiple capital improvement projects to support the site goal of increased capital investment and expansions
This list is not all-inclusive and may include other duties as assigned and necessary for the operation and management of the shift and overall plant
Your recipe for success
Qualifications:
BS/BA Degree in Mechanical, Electrical, or Chemical Engineering
5-7 years experience as a Maintenance or Reliability Engineer
5-10+ years experience as a Maintenance Supervisor or Manager
Excellent computer knowledge including experience working with plant process control systems.
Knowledge & Skills:
Knowledge of the general operation of chemical plant processes and auxiliary equipment associated with manufacturing functions.
Knowledge of Maintenance Planning and Scheduling
Knowledge of Preventative and Predictive Maintenance Programs
Experience managing personnel and processes through Process Safety Management (PSM).
Knowledge of safety practices and procedures for the handling of hazardous materials.
Knowledge of safety regulations, safe work practices and safety equipment.
Proficiency in maintaining accurate records, inventory status and control of all plant equipment and trained records
Ability to read and interpret documents such as plant and equipment drawings, procedures, emergency response manuals, production orders and Material Safety Data Sheets.
Ability to speak clearly and concisely and communicate in a professional manner both written and orally with individuals at all levels of the organization.
Strong demonstrated leadership, influence and supervisory skills.
Must be able to access all areas of facility.
Must be able to wear SCBA, and be able to participate in ERT.
Benefits:
Medical, Dental Vision- Participation within the first 30 days of employment
Company paid Short-term and Long-term Disability
Voluntary Life Insurance
Competitive Bonus Potential
Employee Assistance Program
Tuition Reimbursement
401(k) with employer match
PTO
Your spectrum of advantages
In the ALTANA Group, you will work in a unique culture of innovation where the utmost importance is attached to promoting individual ideas and abilities as well as open, trusting interaction. 
We invite you to get to know us better and to become part of our team. Discover your career plus in specialty chemistry. Please send us your application, preferably via our jobmarket www.altana.jobs
ALTANA AG and its subsidiaries is an equal opportunity employer. All qualified applicants will receive consideration for employment without regard to race, religion, color, national origin, sex, sexual orientation, gender identity, age, status as a protected veteran, among other things, or status as a qualified individual with disability.
Job number: US00568
Legal entity: BYK USA Inc.
Location: Wallingford, CT
Area of operations: Betriebstechnik / Instandhaltung