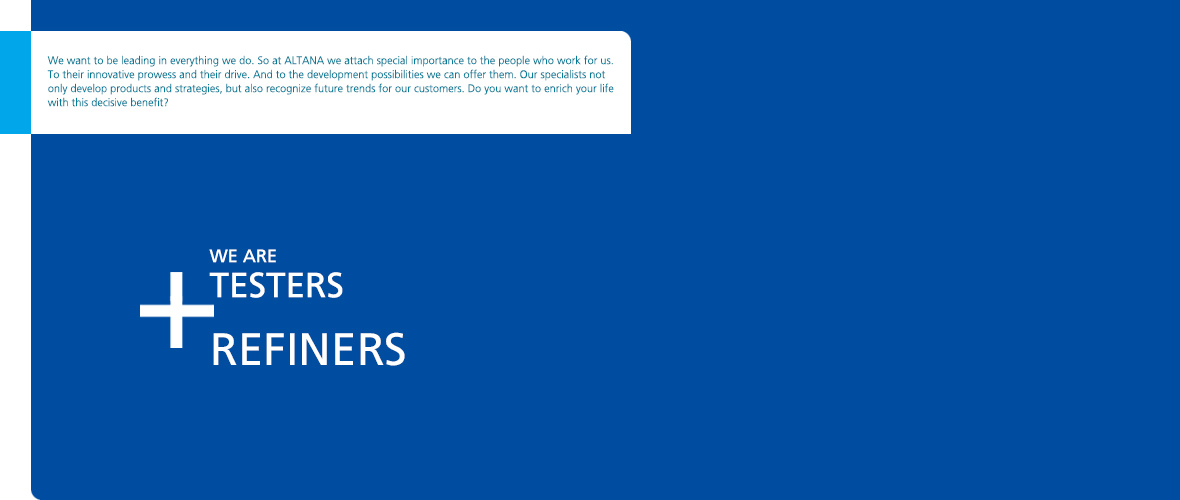 The ALTANA Group develops and manufactures high-quality, innovative specialty chemical products. With us, you can help shape many important details of the world of the future. Our four divisions BYK, ECKART, ELANTAS, and ACTEGA have set worldwide standards in their markets. Our innovative products enable companies to develop technologies of the future today, technologies that make life easier, safer, and more comfortable. With sales of around 2.7 billion euros, we are one of the world's most innovative, fastest-growing, and most profitable chemical companies. We currently employ more than 6,700 people who have good ideas for the world of the future. Discover your decisive plus for your future. Bringing you many advantages.

BYK Additives & Instruments is one of the world's leading suppliers in the field of additives and measuring instruments. Around the world, the additives of BYK ensure that coatings and plastics obtain precisely the desired properties and the correct quality.
Lead Warehouse Operator
Your task structure
Summary:
This position will serve as a back-up to the Warehouse Supervisor and leads the shift workforce.  This person will be responsible for the preparation of shipments, storage of supplies and products, receipt of supplies, purchased FG and RM and distribution/store them.
Duties and Responsibilities:
Assigns and changes tasks given to shift workforce as needed
Organize and store materials
Locate and prepare products for shipment
Load and unload trucks
Make labels using printer and computer terminal
Transport supplies to proper departments
Drive a forklift
Call freight forwarders for daily truck pickups as needed
Use LAN based PC for information retrieval and data entry
Must successfully complete appropriate D.O.T. Hazmat training
Participates in emergency response as defined in the program and training capability
Must successfully complete RCRA training according to job function and the regulations
Follows emergency response procedures
Provides leadership for establishing and maintaining a safe work environment.  Proactively addresses and corrects all unsafe behaviors and conditions.
All other duties as assigned
Your recipe for success
Qualifications:
Good problem-solving ability
High School diploma or equivalent
Good math aptitude
5+ years of experience in warehouse operations
Ability to coordinate work functions with other warehouse personnel
Read and write English
Knowledge & Skills:
Operate LAN based Personal Computer and business ERP system
Must be able to speak on phone
Employee will be required to pick 200-400 pails of liquid chemical in a day. Picking will be between 24 to 48 inches.  Picking from 40-60# will be constant and 80# will be occasional
Employee will be required to lift fuel tanks onto the forklifts weighing 75# to a height of 56 inches
Employee will be required to manipulate controls and steering wheel of forklift
Employee will be required to sit for greater than 50% of day on forklift
Employee will be required to lift pails (40-80#) to 52 inches to load the tilt machine for sampling
Employee will be required to turn crank constantly to tip the tilt machine
Employee will be required to carry up to 40# of samples 20 feet
Benefits:
Medical, Dental Vision- Participation within the first 30 days of employment
Company paid Short-term and Long-term Disability
Voluntary Life Insurance
Competitive Bonus Potential
Employee Assistance Program
Tuition Reimbursement
401(k) with employer match
PTO
Your spectrum of advantages
In the ALTANA Group, you will work in a unique culture of innovation where the utmost importance is attached to promoting individual ideas and abilities as well as open, trusting interaction. 
We invite you to get to know us better and to become part of our team. Discover your career plus in specialty chemistry. Please send us your application, preferably via our jobmarket www.altana.jobs
ALTANA AG and its subsidiaries is an equal opportunity employer. All qualified applicants will receive consideration for employment without regard to race, religion, color, national origin, sex, sexual orientation, gender identity, age, status as a protected veteran, among other things, or status as a qualified individual with disability.
Job number: US00574
Legal entity: BYK USA Inc.
Location: Wallingford, CT
Area of operations: Lager und Versand