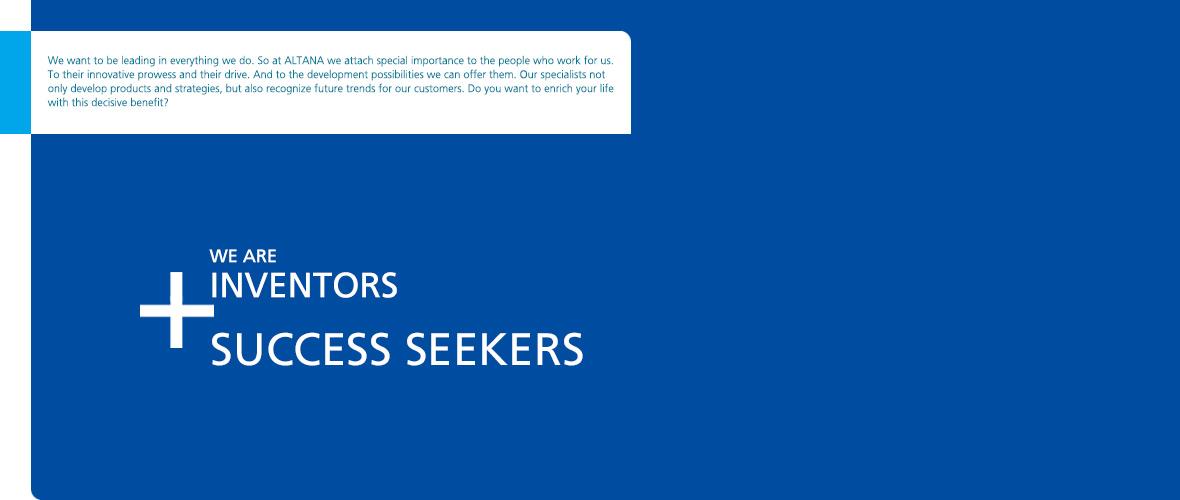 The ALTANA Group develops and manufactures high-quality, innovative specialty chemical products. With us, you can help shape many important details of the world of the future. Our four divisions BYK, ECKART, ELANTAS, and ACTEGA have set worldwide standards in their markets. Our innovative products enable companies to develop technologies of the future today, technologies that make life easier, safer, and more comfortable. With sales of around 2.7 billion euros, we are one of the world's most innovative, fastest-growing, and most profitable chemical companies. We currently employ more than 6,700 people who have good ideas for the world of the future. Discover your decisive plus for your future. Bringing you many advantages.

BYK Additives & Instruments is one of the world's leading suppliers in the field of additives and measuring instruments. Around the world, the additives of BYK ensure that coatings and plastics obtain precisely the desired properties and the correct quality.
Technical Service Chemist
Your task structure
Summary:
Independently performs laboratory activities to provide necessary services for the Technical Service laboratory in collaboration with Group Leader/Senior Chemist.
Duties and Responsibilities:
Independently outline, organize, and perform Technical Service Requests (TSR's) in collaboration with Senior Chemist/Group Leader.
Independently design, set up and conduct lab experiments.
Compile, document, summarize and interpret results of experiments, tests, and analyses.
Write technical reports or prepare graphs and charts to document experimental results.
Independently communicate technical information through written internal or external reports.
Propose and set project work priorities for self in collaboration with supervisor.
Identify competitive products and evaluate as agreed upon with supervisor.
Evaluate new coatings, raw materials, binders, solvents, pigments, etc., as agreed upon with supervisor.
Independently prepare demonstration material for use by our technical sales and distribution staff as directed by supervisor.
Independently prepare and give formal presentations to workgroup + company technical community + customers.
Interface with extended laboratory staff at other ALTANA/BYK sites on processes, problem solving, and new products.
Provide input for End Use/Technical Service monthly reports.
Take responsibility for and maintain instruments assigned to them; provide and document training, maintain SOPs, perform, or coordinate maintenance.
Independently write SOPs for laboratory procedures and analytical methods.
Order and inventory materials to maintain supplies for equipment and laboratory.
Travel to Germany to receive technical training and interface with laboratory staff at BYK-Chemie GmbH in Wesel, as necessary.
Assist and attend sales meeting(s), as necessary.
Assist in preparation and/or attend customer seminars, trade shows, society meetings, as necessary.
Interface with technical sales team regarding Technical service requests, projects, lab sales tools and any other support.
Your recipe for success
Qualifications:
Bachelor of Arts/Science in chemistry or related field.
4-8 years' experience (post BA/BS) in Additives/Coatings (or related field).
Good problem-solving abilities.
Good communication skills.
Able to work independently.
Knowledge & Skills:
Understanding of formulation ingredients, application techniques and substrates for paints & coatings.
Knowledge of laboratory equipment & procedures applicable to paints & coatings (e.g. dispersing and grinding, slip, hardness, scratch, haze, color, gloss, rheology, spray equipment, etc.).
Knowledge of additives and their application in paints & coatings.
Knowledge of physical and health hazards associated with chemicals and procedures to analyze and minimize the risks associated with them in a laboratory setting.
Understanding of safety considerations and labeling procedures associated with chemicals in laboratories.
Independently design, set-up, and conduct laboratory experiments.
Work collaboratively with Senior Chemist/Group Leader.
Independently plan, organize, prioritize, and productively execute multiple projects.
Document experiments and results in official lab notebooks in such a way that the experiment can be reproduced by another chemist/technician.
Collect, document, and analyze data, identify trends, synthesize results, generate conclusion and next steps and report to supervisor.
Benefits:
Medical, Dental Vision- Participation within the first 30 days of employment
Company paid Short-term and Long-term Disability
Voluntary Life Insurance
Competitive Bonus Potential
Employee Assistance Program
Tuition Reimbursement
401(k) with employer match
PTO
Your spectrum of advantages
In the ALTANA Group, you will work in a unique culture of innovation where the utmost importance is attached to promoting individual ideas and abilities as well as open, trusting interaction. 
We invite you to get to know us better and to become part of our team. Discover your career plus in specialty chemistry. Please send us your application, preferably via our jobmarket www.altana.jobs
ALTANA AG and its subsidiaries is an equal opportunity employer. All qualified applicants will receive consideration for employment without regard to race, religion, color, national origin, sex, sexual orientation, gender identity, age, status as a protected veteran, among other things, or status as a qualified individual with disability.
Job number: US00565
Legal entity: BYK USA Inc.
Location: Wallingford, CT
Area of operations: Anwendungstechnik / Technischer Service