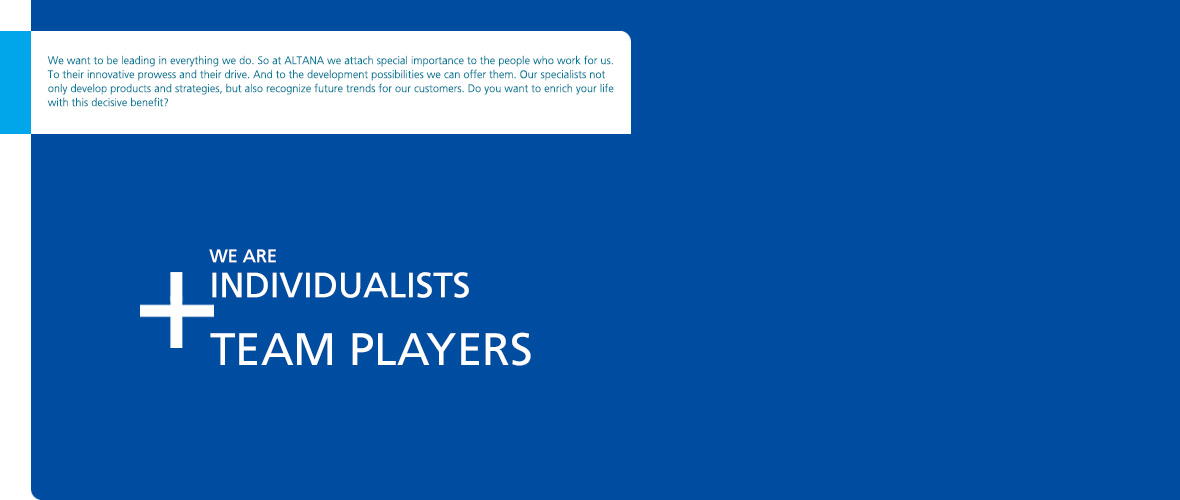 The ALTANA Group develops and manufactures high-quality, innovative specialty chemical products. With us, you can help shape many important details of the world of the future. Our four divisions BYK, ECKART, ELANTAS, and ACTEGA have set worldwide standards in their markets. Our innovative products enable companies to develop technologies of the future today, technologies that make life easier, safer, and more comfortable. With sales of around 2.7 billion euros, we are one of the world's most innovative, fastest-growing, and most profitable chemical companies. We currently employ more than 6,700 people who have good ideas for the world of the future. Discover your decisive plus for your future. Bringing you many advantages.

BYK Additives & Instruments is one of the world's leading suppliers in the field of additives and measuring instruments. Around the world, the additives of BYK ensure that coatings and plastics obtain precisely the desired properties and the correct quality.
HR Manager
Your task structure
Summary:
The Human Resources Manager provides direction and execution for all Human Resources policies, practices, and programs for the Gonzales, TX and Earth City, MO sites.​ This person will provide HR functional leadership for HR planning, employee relations, performance management, employee development/​training, compensation, compliance, and employee communications. The HR Manager coordinates with their team across sites to ensure standardization of policies, where applicable.  This person will be accountable for driving the standard of excellence in executing and delivering HR services and HR activities, including effective coordination with talent acquisition, compensation, benefits, etc.
Duties and Responsibilities:
Represent and display our values through day-to-day work and activities.
Partners with Department Heads and Plant Managers to manage the day-to-day HR responsibilities for multiple sites.
Responsible for streamlining, maintaining, and sustaining consistent HR practices, policies and programs to meet internal organizational procedures as well as local, state, and federal legal compliances.
Manages relationships with unions, including contract negotiations, grievances, arbitrations, etc.
Develops hiring strategy and manages internal and external staffing/recruiting process, including applicant flow, interviews, pre-employment, and on-boarding. Works closely with finance to develop the resource requirements in the long range plan.
Manages compensation, including salary planning, and incentive/bonus compensation programs.
Leads, and may create, training and career development programs. Develops and facilitates and/or provides H.R. related training (including orientation) to the workforce.
Provides leadership, coaching and career development support to their staff and workforce.
Manages employee relations and leads employee engagement activities.
Manages and responds to employee relations issues to avoid or minimize charges and litigation.
Conducts thorough investigations and administers/manages corrective actions. Interacts with legal counsel as needed.
Provides periodic reports and updates to management.
Provides leadership for establishing and maintaining a safe work environment.  Proactively addresses and corrects all unsafe behaviors and conditions.
Performs other duties as assigned.
Your recipe for success
Qualifications:
Bachelor's degree in Human Resources, Business Management or other related discipline. PHR or SPHR preferred.
Minimum of 5-years of HR Generalist experience in an industrial environment, of which a minimum of 3-years must be recent experience as an HR Manager.
Multi-location HR management experience is strongly preferred.
Minimum of 3-years of labor relations experience, including hands-on skills in negotiations, grievances, and arbitrations is strongly preferred.
Demonstrated experience with competency-based performance management and organizational leadership skills are preferred.
Demonstrated working knowledge of HR related employee law and regulations, including but not limited to Title VII, EEO, ADA, FLSA, FMLA, NLRA, OSHA (or MSHA), Worker Compensation, HIPAA, WARN, etc.
Excellent MS Office product skills such as Word, Excel, Project and PowerPoint.
Ability to travel up to 20%, sometimes with limited notice.
Must meet the physical requirements including, but not limited to, climbing stairs and ladders.
Knowledge & Skills:
Recruiting and staffing
Compensation & benefits
Knowledge of employment laws – WC, ADA, FMLA, FLSA, etc.
Employee training programs
Able to objectively coach employees and management through complex, difficult, and emotional issues.
Must demonstrate a high level of business acumen.
Must have excellent verbal communication, written communication and presentation skills.
Must be able to be creative, analytical, and persuasive at the same time.
Advanced analytical, critical thinking, technical, and problem-solving skills and abilities.
Able to build collaborative relationships with employees at all levels of the organization.
Strong interpersonal, influencing and facilitation skills.
Benefits:
Medical, Dental Vision- Participation within the first 30 days of employment
Company paid Short-term and Long-term Disability
Voluntary Life Insurance
Competitive Bonus Potential
Employee Assistance Program
Tuition Reimbursement
401(k) with employer match
PTO
Your spectrum of advantages
In the ALTANA Group, you will work in a unique culture of innovation where the utmost importance is attached to promoting individual ideas and abilities as well as open, trusting interaction. 
We invite you to get to know us better and to become part of our team. Discover your career plus in specialty chemistry. Please send us your application, preferably via our jobmarket www.altana.jobs
ALTANA AG and its subsidiaries is an equal opportunity employer. All qualified applicants will receive consideration for employment without regard to race, religion, color, national origin, sex, sexual orientation, gender identity, age, status as a protected veteran, among other things, or status as a qualified individual with disability.
Job number: US00595
Legal entity: BYK USA Inc.
Location: Gonzales, TX
Area of operations: Personal