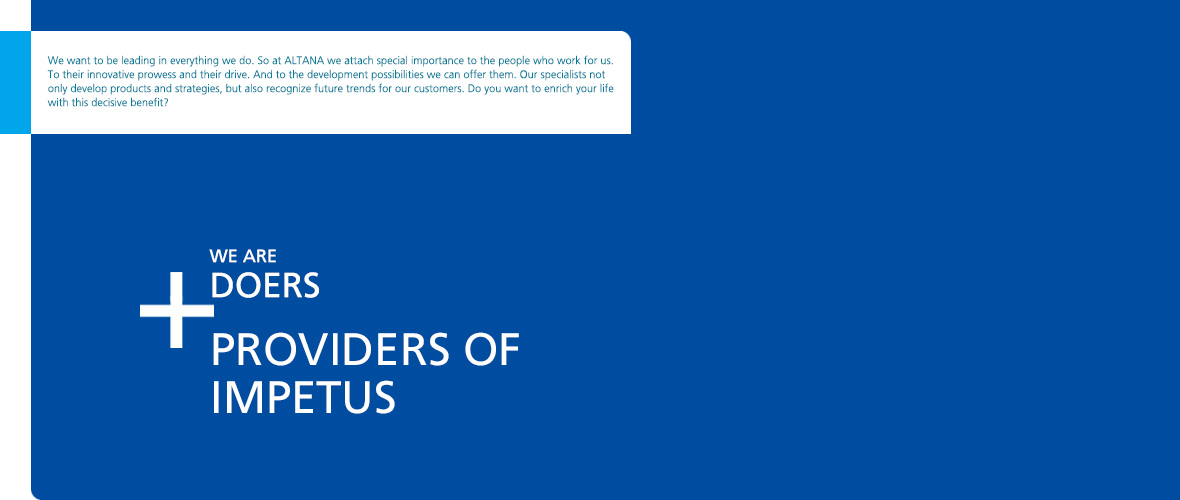 The ALTANA Group develops and manufactures high-quality, innovative specialty chemical products. With us, you can help shape many important details of the world of the future. Our four divisions BYK, ECKART, ELANTAS, and ACTEGA have set worldwide standards in their markets. Our innovative products enable companies to develop technologies of the future today, technologies that make life easier, safer, and more comfortable. With sales of around 2.7 billion euros, we are one of the world's most innovative, fastest-growing, and most profitable chemical companies. We currently employ more than 6,700 people who have good ideas for the world of the future. Discover your decisive plus for your future. Bringing you many advantages.

BYK Additives & Instruments is one of the world's leading suppliers in the field of additives and measuring instruments. Around the world, the additives of BYK ensure that coatings and plastics obtain precisely the desired properties and the correct quality.
Market Manager
Your task structure
Summary:
Represents BYK USA in the NAFTA region (USA, Canada, & Mexico) as the expert for all technical and market aspects of the Adhesive & Sealants markets.  Has a primary business responsibility for working with strategic and key customers in this market, which includes directing technical support in the U.S. and German labs.  Supports the Global End Use Manager for Adhesive & Sealants, North American Industrial Applications Business Line Manager, Regional Technical Sales Representatives, and distribution partners with regard to technical support, technical marketing, and strategic planning.  Monitor market trends, sales and competitive activity to drive business growth and seize opportunities.  This position also has direct sales responsibility for assigned major accounts.
Duties and Responsibilities:
Affect the sales of BYK's Adhesive & Sealants additives in the NAFTA region
Responsibility for local technical customer service
Direct sales responsibility for assigned accounts
Direct all regional customer related activities (seminars, visits, projects, etc.)
Coordination of regional TSR work with local lab and/or global labs
Disciplinary responsibility for local End Use lab; could also include direct lab work
Local resource allocation and functional coordinator of dedicated regional End Use staff
Regional support for product launches
Support idea generation process for new product developments targeting regional customer demands
Cooperation with local R&D units for regional product development
Collaboration with R&D project (testing)
Coordination of customer visits with local sales organization
Technical supervision and training of distributors, including supporting technical questions
Cooperation with regional and/or global Marketing
Organization of local customer events
Strategic guidance of sales organization
Support local exhibition activities (example, trade shows, industry meetings, etc.)
Support for demand planning to sales and/or customer service
Support regional and Business Line strategy development
Gather regional market intelligence
Responsibility for local STEP process
Monitor the respective market and create, accordingly, customer reports, budgets, reports on trends, etc.
Participate in worldwide End Use Team meetings

International travel to Wesel and/or other labs for training and project work.  Could be up to three weeks annually.  Initial training could be 2-3 months for training
Your recipe for success
Qualifications:
Must have technical background, experience in Adhesive & Sealant markets and/or extensive knowledge of BYK Additives. Preferred to have formulated using additives.
College degree required, preferably in chemistry or chemical engineering
Previous experiences in adhesive and sealants formulation
Previous supervisory experience preferred.
Knowledge & Skills:
Familiar with market(s) served and key customers in the market
Understands usage of additives; inclusive of all product groups
Familiar with competition and knows strengths and weakness
Understands global requirements of customers and reacts accordingly
Able to communicate and work closely other departments both within and outside of NAFTA
Inquisitive enough to promote BYK products
Possess and understanding of both commodities and specialty additives sales
Benefits:
Medical, Dental Vision- Participation within the first 30 days of employment
Company paid Short-term and Long-term Disability
Voluntary Life Insurance
Competitive Bonus Potential
Employee Assistance Program
Tuition Reimbursement
401(k) with employer match
PTO
Your spectrum of advantages
In the ALTANA Group, you will work in a unique culture of innovation where the utmost importance is attached to promoting individual ideas and abilities as well as open, trusting interaction. 
We invite you to get to know us better and to become part of our team. Discover your career plus in specialty chemistry. Please send us your application, preferably via our jobmarket www.altana.jobs
ALTANA AG and its subsidiaries is an equal opportunity employer. All qualified applicants will receive consideration for employment without regard to race, religion, color, national origin, sex, sexual orientation, gender identity, age, status as a protected veteran, among other things, or status as a qualified individual with disability.
Job number: US00594
Legal entity: BYK USA Inc.
Location: Wallingford, CT
Area of operations: Marketing & Vertrieb allgemein