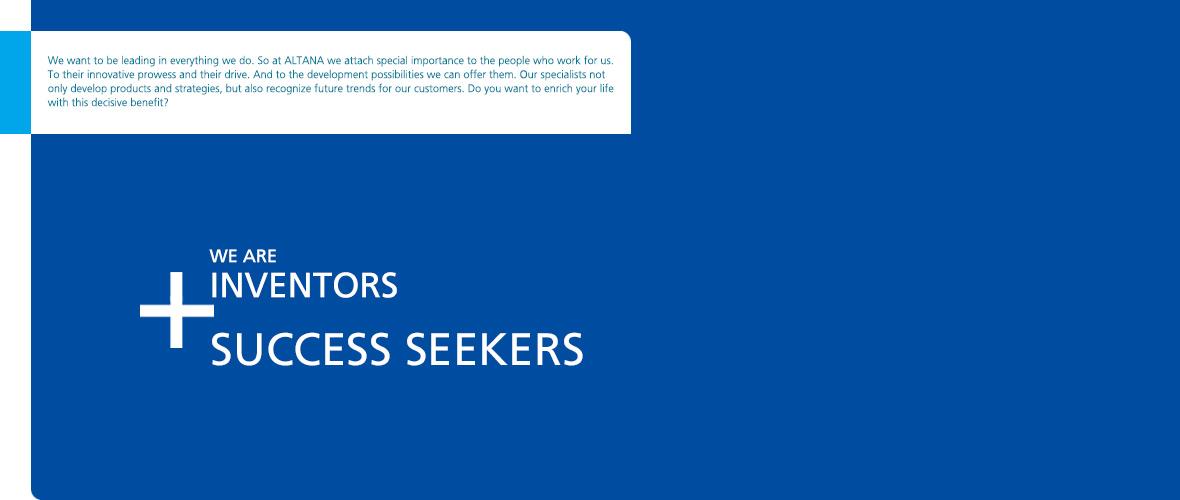 The ALTANA Group develops and manufactures high-quality, innovative specialty chemical products. With us, you can help shape many important details of the world of the future. Our four divisions BYK, ECKART, ELANTAS, and ACTEGA have set worldwide standards in their markets. Our innovative products enable companies to develop technologies of the future today, technologies that make life easier, safer, and more comfortable. With sales of around 2.7 billion euros, we are one of the world's most innovative, fastest-growing, and most profitable chemical companies. We currently employ more than 6,700 people who have good ideas for the world of the future. Discover your decisive plus for your future. Bringing you many advantages.

BYK Additives & Instruments is one of the world's leading suppliers in the field of additives and measuring instruments. Around the world, the additives of BYK ensure that coatings and plastics obtain precisely the desired properties and the correct quality.
Batch Operator
Your task structure
Summary:
Accurately perform product processing, packaging, and material handling operations in an orderly and safe manner in the manufacturing area
Duties and Responsibilities:
Follow manufacturing procedures involved with production batches
Maintain organization of raw material and supply inventories
Maintain communication with other plant personnel in regard to their jobs and progress
Maintain proper records of manufacturing data
Follow procedures for product packaging
Move products and raw materials between production and warehousing areas
Unload incoming bulk raw material shipments
Load outgoing bulk finished goods shipments
Perform minor maintenance of production equipment
Maintain organization and cleanliness in plant area
Monitor and handle hazardous waste containers according to procedure
Must successfully complete appropriate D.O.T. Hazmat training
Participates in emergency response as defined in the program and training capability
Must successfully complete RCRA training according to job function and the regulations
Follows emergency response procedures
Perform other duties as assigned
Work Overtime as needed
Your recipe for success
Qualifications:
High School diploma or equivalency
Able to accurately read and execute manufacturing procedures
Must be able to read and write English
Good problem-solving ability
Strong math aptitude
5+ years of Chemical Manufacturing, experience with monitoring temperature, pressure, distillations, and filtration
Knowledge & Skills:
Mechanical – Being aware of the basic mechanics involved with all the systems and equipment used in the plant/facility
Chemical – Knowledge of basic chemistry and its production applications
Procedural – Understanding our procedures and our procedural format
Mechanical Aptitude – The ability to adeptly utilize the equipment. This includes forklifts, valves, vacuum systems, cooling/heating systems, pumps and various other items and systems
Trainability – This skill demonstrated by how quickly and thoroughly procedures and equipment are learned
Benefits:
Medical, Dental Vision- Participation within the first 30 days of employment
Company paid Short-term and Long-term Disability
Voluntary Life Insurance
Competitive Bonus Potential
Employee Assistance Program
Tuition Reimbursement
401(k) with employer match
PTO
Your spectrum of advantages
In the ALTANA Group, you will work in a unique culture of innovation where the utmost importance is attached to promoting individual ideas and abilities as well as open, trusting interaction. 
We invite you to get to know us better and to become part of our team. Discover your career plus in specialty chemistry. Please send us your application, preferably via our jobmarket www.altana.jobs
ALTANA AG and its subsidiaries is an equal opportunity employer. All qualified applicants will receive consideration for employment without regard to race, religion, color, national origin, sex, sexual orientation, gender identity, age, status as a protected veteran, among other things, or status as a qualified individual with disability.
Job number: US00564
Legal entity: BYK USA Inc.
Location: Wallingford, CT
Area of operations: Produktion / Fertigung