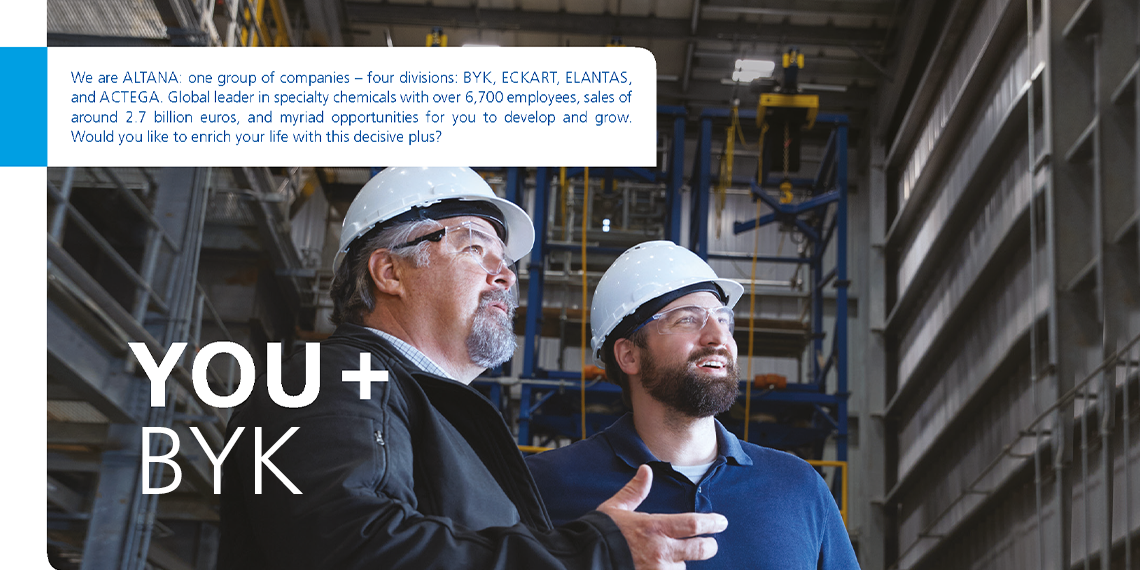 Deputy Purchasing and Supply Chain Manager
Responsibilities
As a key part of the Purchasing and Supply Chain team of BYK Widnes, the role reports to the Purchasing and Supply Chain Manager UK.
Working integrally with other members of the Purchasing and Supply team, the role holder is responsible for the effectiveness of the Purchasing and Supply Chain elements at Widnes site, delivering performance to agreed procedures and standards, suggesting and implementing improvements as necessary to address the changing nature of the business and its environment.
There may be a requirement to travel globally occasionally to fully integrate with the Global supply team hence flexibility is a prerequisite of the role.
Living the ALTANA values of Openness, Trust, Appreciation and Empowerment to Act every day.
We invite you to get to know us better and to discover your own personal special side of life. Please send us your application, preferably via our job market www.altana.jobs. For further information, please contact:
Marilyn Sedman, HR Advisor, BYK Additives Ltd. Tel +44 (0) 151 495 9982.
For further information on the company, visit our website at www.byk.com
Requirements
Key responsibilities Include (but not limited to):
Provides support for the purchasing team, controlling and execution of agreed tasks.

Understand, support and execute all distribution and planning elements for the local entity.

Ensures timely and cost-efficient fulfilment of all BYK UK customer and intercompany demand according to agreed S&OP plans by working closely with other team members and external stake holders.

Monitors and resolves critical issues to ensure that agreed service levels are met or exceeded

Supports

overall operating excellence by controlling cost, operating efficiency and working to department

service levels.

Implementation and development of Purchasing and Supply Chain processes.

Develop team work, with other colleagues, demonstrating your ability to work closely with all members of the team.

Participate in the wider BYK/ALTANA group and facilitate the implementation of such projects at the local level.

Establishing positive relations with internal and external stakeholders at all levels.

Supervision and execution of the change control process for raw materials and packaging.

Supervision and execution of the requirements under site waste procedure ensuring dual sourcing availability for disposal of site waste.

Develop the skill, knowledge and experience to manage the energy supply agreements for the Widnes Site.
Organisation of vendors and documentation systems to meet the company audit controls
Establish monthly statistical reporting and KPI monitoring within both the Purchasing and Supply Chain functions.
Provide cover for the Purchasing and Supply Chain Manger.
Required / Essential Qualifications, Experience and Attributes
CIPS or equivalent Supply Chain Qualification or experience

Strong interpersonal skills, enthusiasm and ambition to be part of a successful team.

Results-focused.

Experience in production and demand planning and demand forecasting.

Track record of good supervisory skills

Drive, determination and resilience with the a

bility to work under pressure and to tight deadlines

Competence in managing administrative systems to ensure accurate data to support business information requirements.

Organisation and problem-solving skills and the ability to source information on demand

Experience of using SAP

A flexible approach to work in line with business requirements

Excellent communication skills including fluency in English (both written and oral)

Skilled and experienced negotiator

Excellence in the use of MS office products

Experience in working in an organisation, spanning multiple geographies and cultures.
more
Our Plus
In the ALTANA Group, you will work in a unique culture of innovation where the utmost importance is attached to promoting individual ideas and abilities as well as open, trusting interaction. BYK Additives UK Ltd offers you a lot of advantages. They include the opportunity to work within a dynamic team in a successful business, a competitive salary and benefits package, the Participation in site bonus scheme and the company pension scheme after a qualifying period, generous annual holiday entitlement as well as excellent development opportunities.
Job number:
AW00225
Legal entity:
BYK Additives Ltd. (UK)
Location:
Widnes Cheshire
About us
BYK, as part of the ALTANA Group, is a leading global supplier of specialty chemicals. Our innovative BYK additives improve scratch resistance and surface gloss, the mechanical strength or flow behavior of materials, and properties such as UV- and light stability or flame retardancy. BYK has a global network of subsidiaries and employs a workforce of more than 2,500 people worldwide.

BYK Additives Limited based in Widnes is a leading manufacturer of specialty chemicals, supplying additives to the coatings, consumer care, oil field and other specialty markets. The site has been the home of inorganic chemical manufacture since 1923 and has been part of the BYK Division of ALTANA AG, a privately owned speciality chemicals company, since 2013.
more
ALTANA AG and its subsidiaries is an equal opportunity employer. All qualified applicants will receive consideration for employment without regard to race, religion, color, national origin, sex, sexual orientation, gender identity, age, status as a protected veteran, among other things, or status as a qualified individual with disability.
---