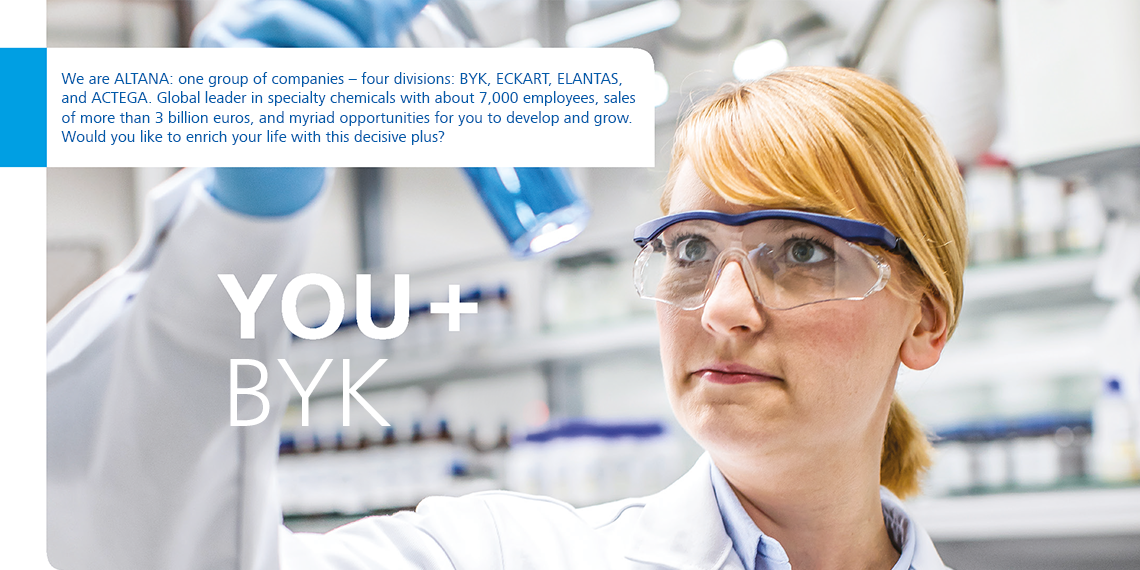 Science graduate or Chemical Engineer from a recognized university / Institute is a must
End Use Manager - Wood and Floor Coatings
End Use Manager – Wood and Floor Coatings
Responsibilities
Key Objectives/Principal Accountabilities
This role is responsible for Technical Support and Market Development for customers from Special Coatings Cluster-Wood and Flooring Coatings market.
The scope of the market is Indian sub-continent- India, Bangladesh, Sri Lanka and Pakistan(remote).
This role is pivotal in achieving aggressive growth aspirations in Special Coatings market through proactive approach of providing solutions to customers.
Work on development of BYK Additives Business within India Sub-continent through strong competition mapping.
This role is responsible for understanding customer technical needs; developing, defining and implementing short and long-term End User strategies to achieve company and customer goals.
Generate technical service requests (TSR) in line with Annual operating plan projects and lead execution of the same.
Be a bridge between Customer and BYK Technology Application Center for development project execution- Lead the execution of such lab projects (TSR) as per targeted timelines.
Close Coordinate with Global End Use Managers to bring Innovations and best practices to the business.
Lead aggressive business growth aspirations in the new market segment, geography and customers with focus on Consultative Solution Sales.
Interact with potential and existing customers and expand the customer base by mapping our presence with the various customers vis-à-vis the market.
Provide necessary inputs on competition & their offerings through good market intelligence.
Proactively prospect in the identified markets to create opportunities. Map out the key players for potential new business initiatives.
Assist Business Manager and Sales Head to define sales strategy and be involved in the entire cycle from prospecting to closure.
Work closely with inside sales / presales for continuously improving responses, sales collaterals and other aspects influencing effective sales.
Execute high quality of discussions to demonstrate BYK strengths utilizing influencing skills.
Drive Product Group and End Use Category penetration in the nascent market to expand the market to 'BYK' advantage.
Understanding the market for new segments emerging in India including deep understanding of competition
We invite you to get to know us better and to become part of our team. Discover your career plus in specialty chemistry. Please send us your application, preferably via our jobmarket www.altana.jobs.

For further information, please contact:
Priya Gugale, priya.gugale@remove-this.altana.remove-this-also.com, +91 20 6719 0767.

The closing date for all applications is 05/31/2023, and shortlisted candidates will be invited for a face-to-face interview. For further information on the company, visit our web site at www.byk.com.
Requirements
Requirements for Job
Science graduate or Chemical Engineer from a recognized university / Institute is a must.
10+ years of post-qualification – Paint/ Coatings- Production, R&D and Technical Service experience.
Self-Starter; Organized; Problem-Solving; Detail-Oriented; Administrative.
Ability to work independently and have strong team - building skills.
Excellent communication and presentation skills in all forms.
Demonstrated ability to assess customer requirements, identify problems and demonstrate solution approach.
more
Our Plus
In the ALTANA Group, you will work in a unique culture of innovation where the utmost importance is attached to promoting individual ideas and abilities as well as open, trusting interaction.
At ALTANA we want to be leading in everything we do. Therefore, active implementation of ALTANA´s corporate culture in everyday life is the most effective guideline. Unshakable guidelines of ALTANA´s corporate culture are the four corporate values of ALTANA
Appreciation
Empowerment to act
Openness and
Trust
They are the basis of the work at ALTANA, across divisions and continents, regions and countries, languages and cultural borders.
Job number:
AW00237
Legal entity:
BYK India Private Limited
Location:
Pune
About us
BYK, as part of the ALTANA Group, is a leading global supplier of specialty chemicals. Our innovative BYK additives improve scratch resistance and surface gloss, the mechanical strength or flow behavior of materials, and properties such as UV- and light stability or flame retardancy. BYK has a global network of subsidiaries and employs a workforce of more than 2,500 people worldwide.

BYK has been serving its customers in the Indian subcontinent region for more than 3 decades. BYK India Private Limited, incorporated in January 2018, has its registered office in Thane and corporate head office as well as 'Customer Technology Centre' in Pune.
more
ALTANA AG and its subsidiaries is an equal opportunity employer. All qualified applicants will receive consideration for employment without regard to race, religion, color, national origin, sex, sexual orientation, gender identity, age, status as a protected veteran, among other things, or status as a qualified individual with disability.
---