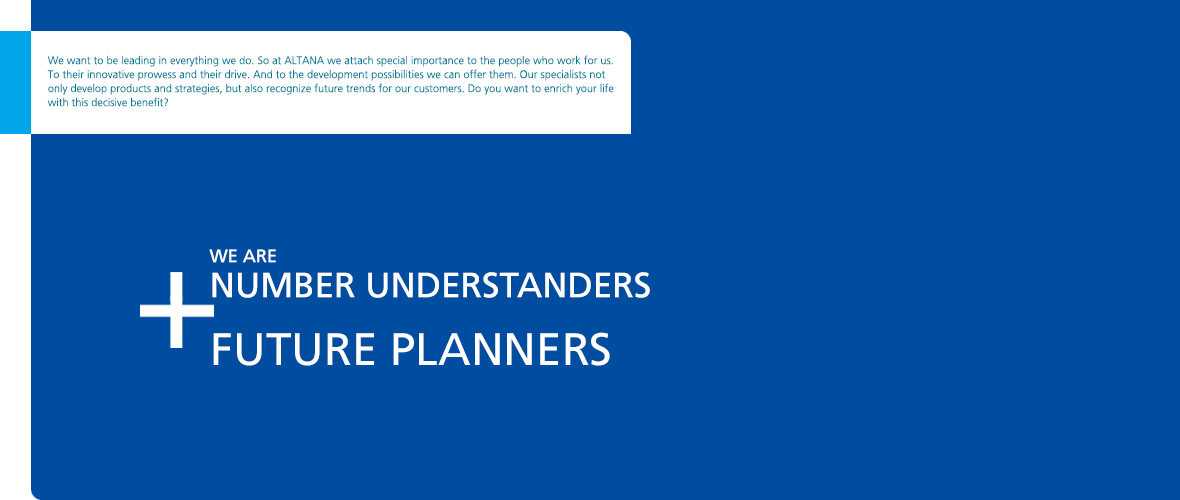 The ALTANA Group develops and manufactures high-quality, innovative specialty chemical products. With us, you can help shape many important details of the world of the future. Our four divisions BYK, ECKART, ELANTAS, and ACTEGA have set worldwide standards in their markets. Our innovative products enable companies to develop technologies of the future today, technologies that make life easier, safer, and more comfortable. With sales of around 2.7 billion euros, we are one of the world's most innovative, fastest-growing, and most profitable chemical companies. We currently employ more than 6,700 people who have good ideas for the world of the future. Discover your decisive plus for your future. Bringing you many advantages.

BYK Additives & Instruments is one of the world's leading suppliers in the field of additives and measuring instruments. Around the world, the additives of BYK ensure that coatings and plastics obtain precisely the desired properties and the correct quality.
Export Documentation Specialist
Your task structure
Summary:
An Export Documentation Specialist is responsible for supporting export activities, oversees preparation of commercial documents in accordance with export, and handles recordkeeping requirements to support timely payment of product.
Duties and Responsibilities:
Document Coordinator: The core responsibility of this role is to create, assemble and submit export documents to the customer, giving customers adequate time to clear customs without any disruption. Maintain Records of these documents and keep them organized. Able to send documents via courier and electronically.
Communications: Communicate and negotiate with the ocean carriers and freight forwarders to obtain the original and rated bill of ladings, identify and resolve discrepancies and work with our internal logistics team to rectify.
Shipping Knowledge: Have an understanding of Ico terms, and be able to communicate efficiently with the proper shipping conditions. This includes processing Export documents for International customers. Must successfully complete appropriate D.O.T. Awareness and Shipping Paper training. Also provide consultative logistics service for internal inquiries. Must have knowledge of ocean and air shipping practices.
Product Knowledge: Able to assist in the logistics process, what the optimized loading levels are.
Quality and Safety: Support BYK's safety initiatives and objectives, in addition to properly tracking quality issues in our quality management system.
Troubleshooting: Response to customer complaints investigates difficulties and works with the necessary departments to qualify root cause and provide customer satisfaction.
Other Duties: Other duties may be required which may be assigned by the Department Manager or Supervisor.
Your recipe for success
Qualifications:
Knowledge of Bill of Ladings, Freight Forwarding, FCL/LCL and/or AIR
Some knowledge on laws governing shipping of chemicals
Must be detailed orientated with focus of superior customer service advocacy, and follow up skills.
Must have the ability to interaction with employees or customers at all levels.
Bachelor's degree in Business, Logistics or Supply Chain Management is a plus
SAP Knowledge
5+ years' experience
Knowledge of Shipping Terms
Telephone communications
Must successfully complete appropriate D.O.T. Awareness and Shipping Paper training
Knowledge & Skills:
Excellent research and follow up skills
Speak clearly on phone
Must have a high detailed mindset
Transportation Management
Self-Starter with desire and ability to learn
Experience in Excel, Word, Outlook, and SAP
Ability to listen to internal and external customers and understand needs and follow up in a timely manner.
Good written and oral communication skills.
Benefits:
Medical, Dental Vision- Participation within the first 30 days of employment
Company paid Short-term and Long-term Disability
Voluntary Life Insurance
Competitive Bonus Potential
Employee Assistance Program
Tuition Reimbursement
401(k) with employer match
PTO
Your spectrum of advantages
In the ALTANA Group, you will work in a unique culture of innovation where the utmost importance is attached to promoting individual ideas and abilities as well as open, trusting interaction. 
We invite you to get to know us better and to become part of our team. Discover your career plus in specialty chemistry. Please send us your application, preferably via our jobmarket www.altana.jobs
ALTANA AG and its subsidiaries is an equal opportunity employer. All qualified applicants will receive consideration for employment without regard to race, religion, color, national origin, sex, sexual orientation, gender identity, age, status as a protected veteran, among other things, or status as a qualified individual with disability.
Job number: US00591
Legal entity: BYK USA Inc.
Location: Wallingford, CT
Area of operations: Anwendungstechnik / Technischer Service