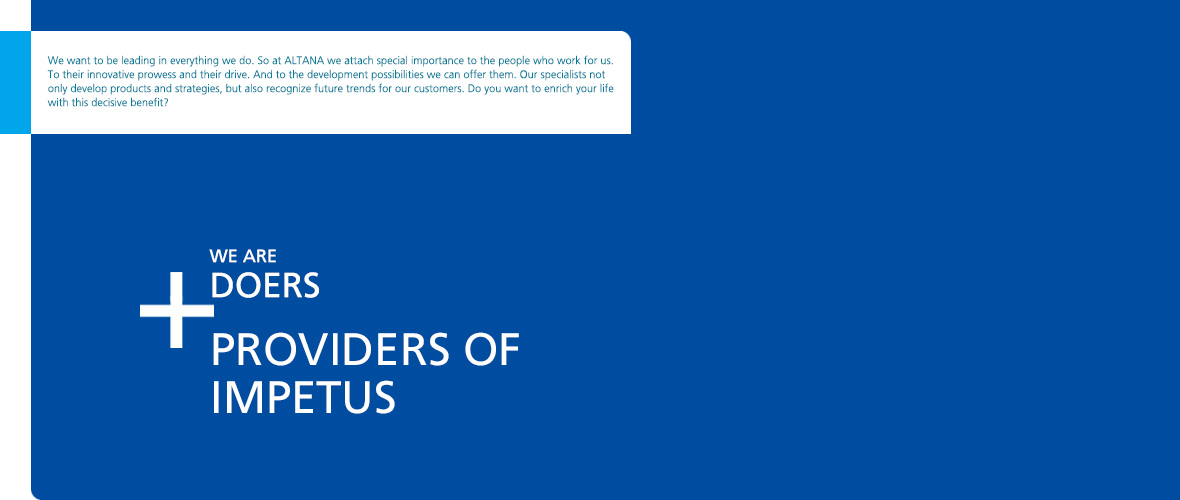 The ALTANA Group develops and manufactures high-quality, innovative specialty chemical products. With us, you can help shape many important details of the world of the future. Our four divisions BYK, ECKART, ELANTAS, and ACTEGA have set worldwide standards in their markets. Our innovative products enable companies to develop technologies of the future today, technologies that make life easier, safer, and more comfortable. With sales of around 2.7 billion euros, we are one of the world's most innovative, fastest-growing, and most profitable chemical companies. We currently employ more than 6,700 people who have good ideas for the world of the future. Discover your decisive plus for your future. Bringing you many advantages.

BYK Additives & Instruments is one of the world's leading suppliers in the field of additives and measuring instruments. Around the world, the additives of BYK ensure that coatings and plastics obtain precisely the desired properties and the correct quality.
Process Controls Engineer
Your task structure
Summary:
This position is responsible for providing controls engineering support to the Wallingford Connecticut additives manufacturing plant.  This includes day to day manufacturing support, continuous improvement, and capital project implementation.
Duties and Responsibilities:
Insures that all process operations are carried out in a safe manner and meet all regulatory and industry standards.

Designing and developing new control systems.

Testing, maintaining and modifying existing systems including technical network infrastructure.

Developing and maintaining a 5 year rolling plan to upgrade and maintain process control equipment.

Provide training to operations personnel as needed.
Analyzes, specifies, develops and recommends design approaches, and equipment modifications necessary to meet production requirements for new or improved products and/or processes.
Assists in investigations and corrective actions for process incident investigations.
Support process development process and process optimization efforts.
Provides training for plant personnel as required.
Participates in emergency response as defined in the program and training capability.
Provides leadership for establishing and maintaining a safe work environment.  Proactively addresses and corrects all unsafe behaviors and conditions.
Employee will be required to lift 75# ladders and carry them at least 40 feet (occasionally)
Employee will be required to lift 75# between floor and shoulder heights to perform various tasks
Employee will be required to perform the following tasks frequently: overhead reaching, bending, squatting, stair climbing, ladder climbing, crawling, kneeling, and, stooping
Must remain clean shaven and be capable of wearing SCBA and other types of respirators
Performs all other duties as assigned.
Your recipe for success
Qualifications:
Bachelor of Science degree in Chemical Engineering, Electrical Engineering or equivalent.
5-10 years of related experience in an engineering support department.
Experience in programming and maintaining plant centralized control systems.
Experience in a Chemical or Liquid Manufacturing environment a plus.
Must possess good communication skills, both written and oral, sound business judgment, strong interpersonal and technical skills and a professional demeanor.
Must be able to effectively work with customers (internal and external), and to work well with people at all levels of the company.
Familiar with PSM standards.
Knowledge & Skills:
Programmable Logic Controllers (PLC)

A

dvanced Process Control (APC),

S88 Batch Control Systems
Knowledge of safety regulations and safe work practices used in the chemical industry including Process Safety Management.
Knowledge of the operation of batch processes and associated auxiliary equipment used in the chemical industry.
In-depth knowledge of process instrumentation and industrial control systems including PLC programming, HMI Visualizations and Server infrastructure.
In-depth knowledge and strong experience of motor controls, HMIs and VFDs.
Ability to manage multiple tasks efficiently.
Benefits:
Medical, Dental Vision- Participation within the first 30 days of employment
Company paid Short-term and Long-term Disability
Voluntary Life Insurance
Competitive Bonus Potential
Employee Assistance Program
Tuition Reimbursement
401(k) with employer match
PTO
Your spectrum of advantages
In the ALTANA Group, you will work in a unique culture of innovation where the utmost importance is attached to promoting individual ideas and abilities as well as open, trusting interaction. 
We invite you to get to know us better and to become part of our team. Discover your career plus in specialty chemistry. Please send us your application, preferably via our jobmarket www.altana.jobs
ALTANA AG and its subsidiaries is an equal opportunity employer. All qualified applicants will receive consideration for employment without regard to race, religion, color, national origin, sex, sexual orientation, gender identity, age, status as a protected veteran, among other things, or status as a qualified individual with disability.
Job number: US00567
Legal entity: BYK USA Inc.
Location: Wallingford, CT
Area of operations: Anwendungstechnik / Technischer Service