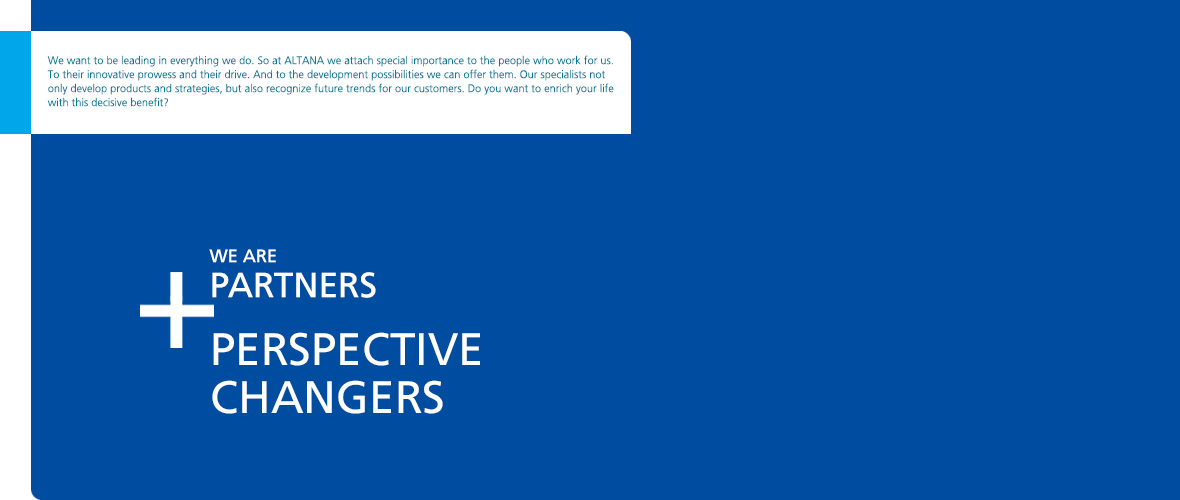 The ALTANA Group develops and manufactures high-quality, innovative specialty chemical products. With us, you can help shape many important details of the world of the future. Our four divisions BYK, ECKART, ELANTAS, and ACTEGA have set worldwide standards in their markets. Our innovative products enable companies to develop technologies of the future today, technologies that make life easier, safer, and more comfortable. With sales of around 2.7 billion euros, we are one of the world's most innovative, fastest-growing, and most profitable chemical companies. We currently employ more than 6,700 people who have good ideas for the world of the future. Discover your decisive plus for your future. Bringing you many advantages.

BYK Additives & Instruments is one of the world's leading suppliers in the field of additives and measuring instruments. Around the world, the additives of BYK ensure that coatings and plastics obtain precisely the desired properties and the correct quality.
Production Supervisor- Night Shift (Rotating)
Your task structure
Summary:
Supervises the production team in the safe manufacture of products that meets customer requirements while ensuring safe work practices and policies are followed.  Cooperates and coordinates with EHS, QC, Maintenance, Planning, and Engineering teams in ensuring weekly production goals are met.  Develops talent in a workforce and installs measurements and controls to monitor performance
Duties and Responsibilities:
Responsible for process safety management systems and safe operation of equipment; directly accountable for personnel safety, quality, scheduling, and customer issues related to production
Lead efforts within shift to improve plant KPIs and operations metrics
Ensure Operators are adhering to documented procedures during batch operation and correctly filling out process paperwork, entering data into SAP as required
Review and corrects SOPs, BOMs, and other relevant work instructions needed to run processes
Lead shift turnover to ensure smooth transition from outgoing and incoming shifts
Work with Engineering and Maintenance to support continuous improvement activities and equipment installations through the MOC process
Work with Engineering / QC to determine root cause of quality deviations in batch processing
Provide feedback to Planning concerning current production status and updates as needed
Ensure raw materials are staged for future batches as needed and returned to proper inventory locations as directed
Lead and Manage Operator Workforce

Enforce company policies, Federal and Local employment laws, OSHA, and EPA regulations and standards
Develop and grow Operator talent by offering constructive criticism and feedback when appropriate
Provide means of training workforce to operate process equipment and processes safely and efficiently while producing material
Drive workplace culture of clean and organized work areas
Insure fair treatment is maintained between employees, and other site work groups (maintenance, QC, Engineering, Warehouse) while building a cooperative atmosphere by utilizing a "leading by example" mentality
Your recipe for success
Qualifications:
HS Diploma required, BS/BA in Chemistry or Chemical Engineering preferred
5-7 years of experience in a chemical manufacturing setting
Competent with Microsoft Office
SAP experience desirable
Knowledge & Skills:
Strong Interpersonal Skills – Positive "can do" attitude, stress tolerant, ability to inspire others
Knowledge of chemical manufacturing operations
Knowledge of PSM processes
Knowledge of workplace safety regulations and practices as applied in a chemical manufacturing setting
Strong verbal and communications skills with the ability to interact effectively with individuals at all levels in an organization
Benefits:
Medical, Dental Vision- Participation within the first 30 days of employment
Company paid Short-term and Long-term Disability
Voluntary Life Insurance
Competitive Bonus Potential
Employee Assistance Program
Tuition Reimbursement
401(k) with employer match
PTO
Your spectrum of advantages
In the ALTANA Group, you will work in a unique culture of innovation where the utmost importance is attached to promoting individual ideas and abilities as well as open, trusting interaction. 
We invite you to get to know us better and to become part of our team. Discover your career plus in specialty chemistry. Please send us your application, preferably via our jobmarket www.altana.jobs
ALTANA AG and its subsidiaries is an equal opportunity employer. All qualified applicants will receive consideration for employment without regard to race, religion, color, national origin, sex, sexual orientation, gender identity, age, status as a protected veteran, among other things, or status as a qualified individual with disability.
Job number: US00592
Legal entity: BYK USA Inc.
Location: Wallingford, CT
Area of operations: Produktion / Fertigung