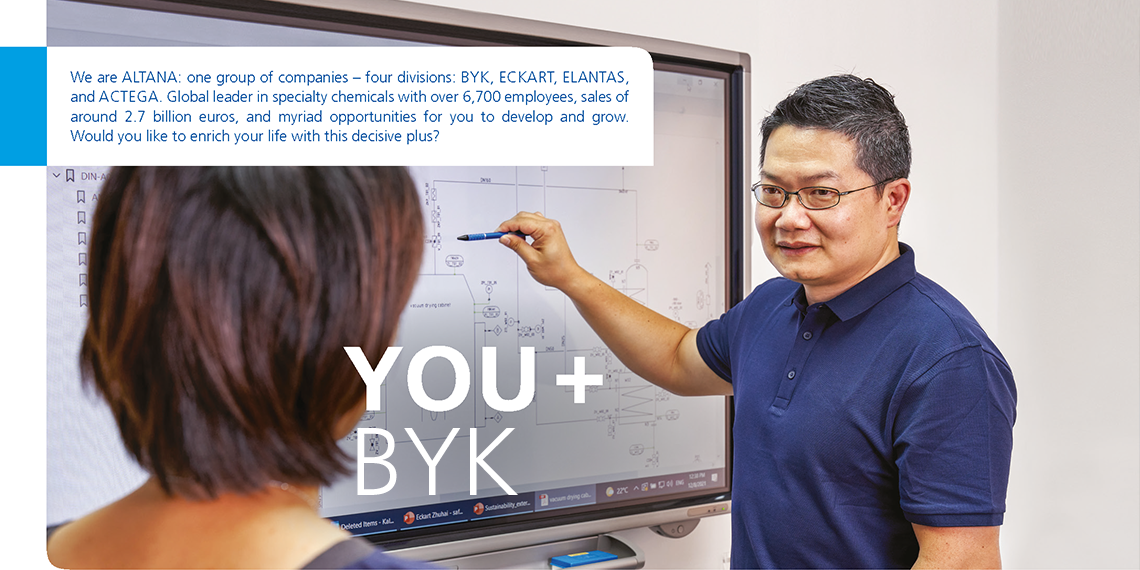 Regulatory Affairs Specialist
Responsibilities
In this position, you will be responsible for:
• Mainly focus on consult and answer regulatory inquiries from customer, agents and distributors.
• Maintaining regulatory related data in SAP.
• Generation and maintenance of regulatory document via SAP, e.g. SDS, GHS Label etc.
• Solve customs (import & Export, HS code, dual-used items) related issues.
• EH&S approval of raw material.
• Monitor regulatory changes in greater China and inform the Global Regulatory Affair Team.
• Support notification and registration process such as new chemicals substance notification; food contact registration, cosmetic raw material registration and hazardous chemical registration.
We invite you to get to know us better and to become part of our team. Discover your career plus in specialty chemistry. Please send us your application, preferably via our jobmarket www.altana.jobs or to: Zongxian HU, Head of HR, BYK Additives (SH) Co. Ltd., Tel +86-21-3749 8811 or Sarah Yang, Sr. HR Specialist, BYK Additives (SH) Co. Ltd., Tel +86-21-3749 8888*860.
Requirements
Education/Experience/ Qualifications:
• Bachelor degree or above in Chemistry/Chemical Engineering / Environmental Engineering, Ecology, Toxicology.
• 5 years' work experiences in the related area such as products compliance, product stewardship, chemical registration or regulations monitoring, preferred in a multi-national chemical industry company.
• SAP EHS hands on experiences is a plus.
• Good interpersonal and communication skills.
• Fluent English (verbal and written).
• Knowledge in Chemical Regulatory Requirements/legislation.
more
Our Plus
In the ALTANA Group, you will work in a unique culture of innovation where the utmost importance is attached to promoting individual ideas and abilities as well as open, trusting interaction. BYK Additives (SH) Co. Ltd. offers you a lot of advantages. They include pleasant-sized operations where employees get to know each other personally and exchange ideas, extensive interdepartmental initial training, short information and decision-making paths, comprehensive further education and training offers, flexible working hours with flextime, and impressive compensation with good employee benefits and pension plans.
Job number:
CHINA00081
Legal entity:
BYK Additives Shanghai Co Ltd
Location:
Shanghai
About us
BYK, as part of the ALTANA Group, is a leading global supplier of specialty chemicals. Our innovative BYK additives improve scratch resistance and surface gloss, the mechanical strength or flow behavior of materials, and properties such as UV- and light stability or flame retardancy. BYK has a global network of subsidiaries and employs a workforce of more than 2,500 people worldwide.
more
ALTANA AG and its subsidiaries is an equal opportunity employer. All qualified applicants will receive consideration for employment without regard to race, religion, color, national origin, sex, sexual orientation, gender identity, age, status as a protected veteran, among other things, or status as a qualified individual with disability.
---