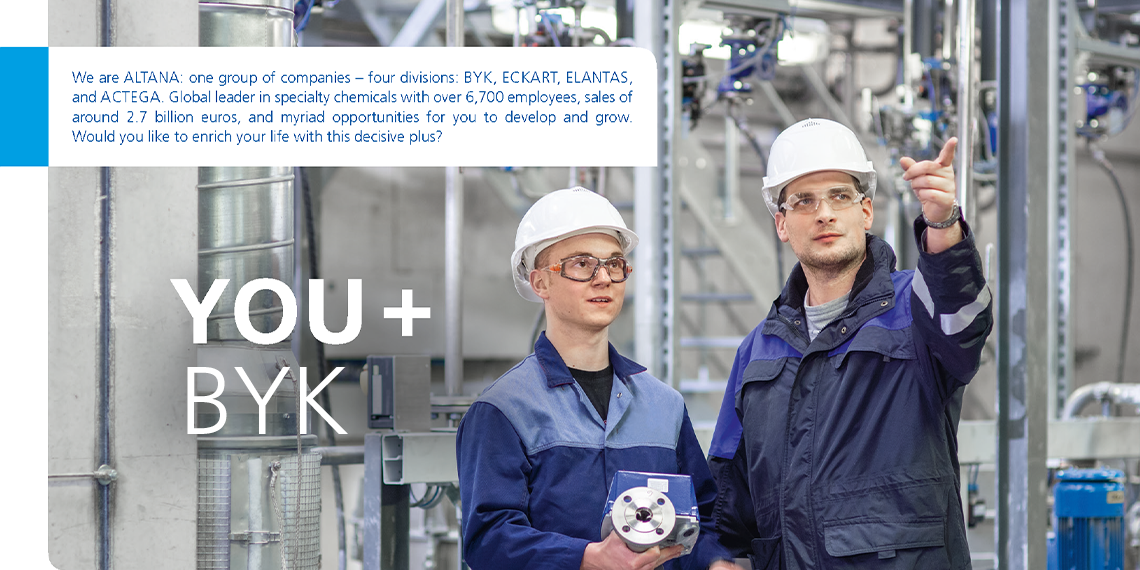 Shift Control Mechanic (E&I)
Responsibilities
To work as part of a multi-discipline team that operates and maintains the BYK Widnes facility. Working as part of the shift team the successful candidate will be responsible for providing Electrical and Instrumentation support for the production department. The role is part of a shift team working on a 4 on 6 off and 4 on 4 off x 12-hour shift pattern.
We invite you to get to know us better and to discover your own personal special side of life. Please send us your application, preferably via our job market www.altana.jobs. For further information, please contact:
Marilyn Sedman, HR Advisor, BYK Additives Ltd. Tel +44 (0) 151 495 9982.
For further information on the company, visit our website at www.byk.com
Requirements
Key responsibilities Include (but not limited to):
To undertake planned maintenance and overhaul of plant equipment and site facilities.
Tasks will primarily be based around a daily schedule. The role requires the ability to self-organise time scales and priorities on a number of tasks.
The role requires continuous communication of task progress, active thought and action if problem faced, willingness to work on own initiative, seek assistance internally and externally if required, falling back onto other tasks without direction if delays faced etc.
To undertake reactive repair of plant equipment and site facilities.
To install new equipment and modifications to existing items.
To carry out testing, inspection, and reporting of plant condition to pre-determined and self-established schedules.
To source materials for maintenance tasks within Engineering Stores and purchasing procedures.
To operate within site maintenance team, communicating with other staff of relevant groups to determine task needs, priorities and time frames.
To use a computerised maintenance management system to record task history, and to brief other maintenance staff for job continuity.
To be proactive in maintaining and developing knowledge and skill to meet needs of the position.
To undertake tasks outside main area of skill and competence under TEST principles.
To ensure that housekeeping standards within the engineering workshop and in each area of the site and on completion of each work task are maintained.
Required Qualifications, Experience and Attributes
The successful applicant will be able to demonstrate:
Qualifications
HNC in related subject
NVQ level 3 Electrical/Instrumentation
18th Edition IEE Wiring Regulations
Desirable Experience and Attributes
Competence in achieving objectives in a similar industry
PLC's - Siemens S7 PLC (step7/ TIA portal) :- would be an advantage
Inverter drives
Motors and Motor Control Circuits
Industrial communications: Profinet, Profibus, HART :- would be an advantage
Instrumentation – Level , Flow, Pressure, Temperature, pH
Calibration of instrumentation
Fault Finding
Planned Maintenance
Computerised Maintenance Management System (Avantis/SAP)
Excellent communication skills both written and oral
Sound computer literacy skills -Microsoft office word and excel
Competence in working as an individual and within a team
Hold a valid FLT Counterbalance and MEWP licence
more
Our Plus
In the ALTANA Group, you will work in a unique culture of innovation where the utmost importance is attached to promoting individual ideas and abilities as well as open, trusting interaction. BYK Additives UK Ltd offers you a lot of advantages. They include the opportunity to work within a dynamic team in a successful business, a competitive salary and benefits package, the Participation in site bonus scheme and the company pension scheme after a qualifying period, generous annual holiday entitlement as well as excellent development opportunities.
Job number:
AW00226
Legal entity:
BYK Additives Ltd. (UK)
Location:
Widnes Cheshire
About us
BYK, as part of the ALTANA Group, is a leading global supplier of specialty chemicals. Our innovative BYK additives improve scratch resistance and surface gloss, the mechanical strength or flow behavior of materials, and properties such as UV- and light stability or flame retardancy. BYK has a global network of subsidiaries and employs a workforce of more than 2,500 people worldwide.

BYK Additives Limited based in Widnes is a leading manufacturer of specialty chemicals, supplying additives to the coatings, consumer care, oil field and other specialty markets. The site has been the home of inorganic chemical manufacture since 1923 and has been part of the BYK Division of ALTANA AG, a privately owned speciality chemicals company, since 2013.
more
ALTANA AG and its subsidiaries is an equal opportunity employer. All qualified applicants will receive consideration for employment without regard to race, religion, color, national origin, sex, sexual orientation, gender identity, age, status as a protected veteran, among other things, or status as a qualified individual with disability.
---