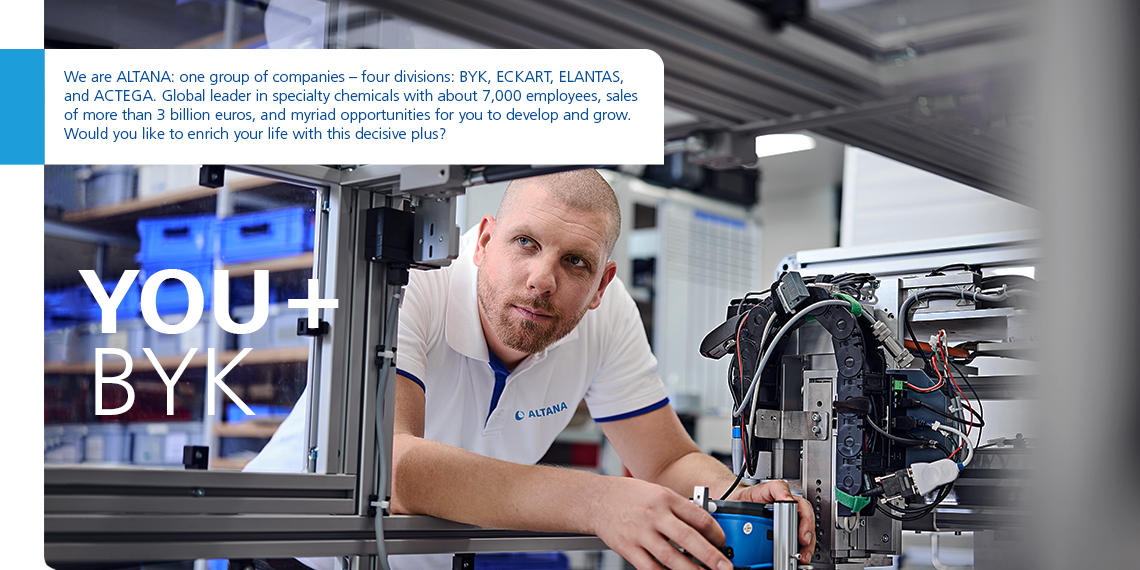 Shift Mechanic
Responsibilities
To work as part of a multi-discipline team that operates and maintains the BYK Widnes facility. Working as part of the engineering team the successful candidate will be responsible for providing Mechanical support for the production department; reporting to the Shift Manager. Working as part of the shift team the successful candidate will be responsible for providing Mechanical support for the production department. The role is part of a shift team working on a 4 on 6 off and 4 on 4 off x 12-hour shift pattern.
This position will provide a variety of challenges and opportunities to work with some of the latest technology and would ideally be suited to a person who is self-motivated and possesses the drive and enthusiasm that will make a difference. The person needs to be proactive in maintaining and developing knowledge and skill to meet needs of the business.
Key responsibilities
To undertake planned maintenance and overhaul of plant equipment and site facilities.
To undertake reactive repair of plant equipment and site facilities.
To install new equipment and modifications to existing items.
To undertake post-maintenance and post-installation proving of equipment prior to handover for operation.
To carry out testing, inspection, and reporting of plant condition to pre-determined and self-established schedules.
To have understanding, implementation and compliance with site SHE procedures and identification opportunities for improvement.
To co-ordinate other trade and support activities.
To source materials for maintenance tasks within Engineering Stores and purchasing procedures.
To operate within site maintenance team, communicating with other staff of relevant groups to determine task needs, priorities and time frames.
To use computerised and paper information systems to record task history, and to brief other maintenance staff for job continuity.
To share and developing skills across a broad range of disciplines and use the skills to best advantage.
To be proactive in maintaining and developing knowledge and skill to meet needs of the position.
To undertake tasks outside main area of skill and competence under TEST principles.
To ensure that housekeeping standards within the engineering workshop and in each area of the site are maintained.
To understand and apply the requirements of the site quality management system.
To assist in quality checks and calibrations and support others as required.
To be aware of, and apply safety health and environment rules, procedures and legislation, particularly in the mechanical field.
To encourage and support compliance with safety health and environment rules procedures and legislation amongst BYK Additives Ltd. employees and contractors.
To ensure risk assessments and other safety assessments are completed in advance of non-routine and routine activities.
We invite you to get to know us better and to discover your own personal special side of life. Please send us your application, preferably via our job market www.altana.jobs. For further information, please contact:
Maria Dean, HR Manager, BYK Additives Ltd. Tel +44 (0) 151 495 9816.
For further information on the company, visit our website at www.byk.com
Requirements
HNC/HND (or working towards) in relevant Mechanical subject
Time served Mechanical apprenticeship
NVQ level 3 Mechanical Engineering
The desired candidate will be a self-starter and be able to demonstrate excellent communication skills, both written and oral. A high level of computer literacy is desirable in the use of Microsoft Office.
more
Our Plus
In the ALTANA Group, you will work in a unique culture of innovation where the utmost importance is attached to promoting individual ideas and abilities as well as open, trusting interaction.
BYK Additives UK Ltd offers you a lot of advantages. They include the opportunity to work within a dynamic team in a successful business, a competitive salary and benefits package, the participation in site bonus scheme and the company pension scheme after a qualifying period, generous annual holiday entitlement as well as excellent development opportunities.
The salary range for this role is between £32729 and £36366. The role will also attract a shift allowance once training allows deployment to shift.
Job number:
AW00251
Legal entity:
BYK Additives Ltd. (UK)
Location:
Widnes Cheshire
About us
BYK, as part of the ALTANA Group, is a leading global supplier of specialty chemicals. Our innovative BYK additives improve scratch resistance and surface gloss, the mechanical strength or flow behaviour of materials, and properties such as UV-and light stability or flame retardancy. BYK has a global network of subsidiaries and employs a workforce of more than 2,500 people worldwide.
BYK Additives Limited based in Widnes is a leading manufacturer of specialty chemicals, supplying additives to the coatings, consumer care, oil field and other specialty markets. The site has been the home of inorganic chemical manufacture since 1923 and has been part of the BYK Division of ALTANA AG, a privately owned speciality chemicals company, since 2013.
more
ALTANA AG and its subsidiaries is an equal opportunity employer. All qualified applicants will receive consideration for employment without regard to race, religion, color, national origin, sex, sexual orientation, gender identity, age, status as a protected veteran, among other things, or status as a qualified individual with disability.
---