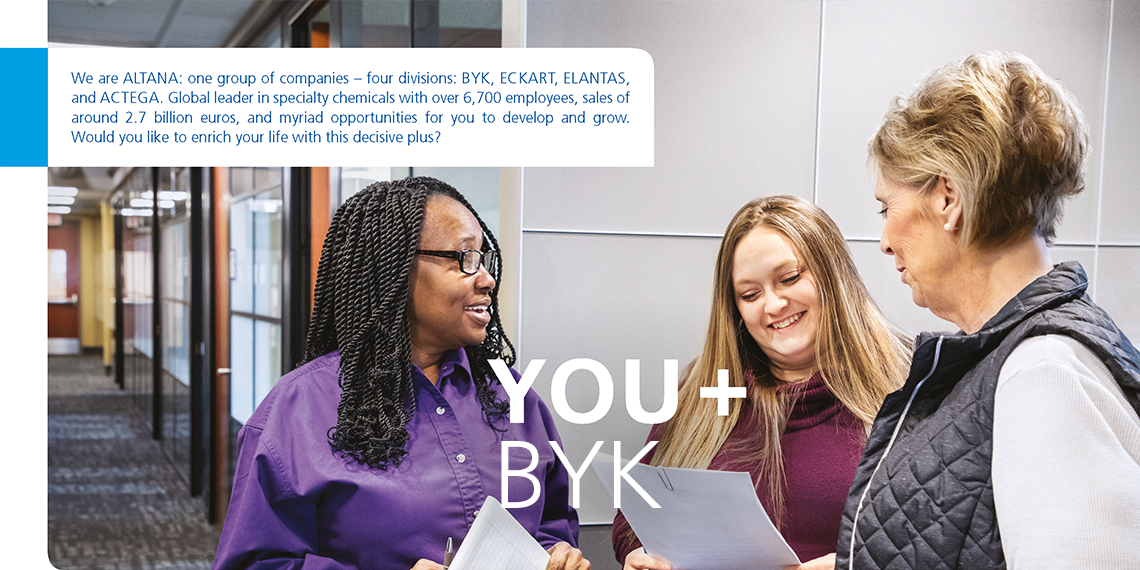 Technical Service Intern
Responsibilities
Summary:
A global working environment with the opportunity to assist in technical service and application process improvement and creatively solving product/ formulation or process related problems internally and externally for BYK customers. Interns will work under general supervision but with a high degree of independence once trained.
Duties and Responsibilities:
Leveraging the knowledge in chemistry, chemical engineering or polymer and coatings within the area of coatings application and coatings performance to support the Technical Service lab activities and application of coating technologies, using additives to improve the performance of these coatings
Use fundamental concepts, practices, and procedures associated with working in a specialty chemical laboratory environment
Complete performance testing of the coatings utilizing the coatings instrument in the lab or collaborating with other universities/ institutes if it is necessary
Analyze, interpret, and prepare summaries, generate technical report, and give presentation to supervisor and other colleagues
Maintain a clean and orderly work area
Ensure laboratory operations are carried out in a manner consistent with the highest standards related to safety, health, and the environment. Proactively address and correct all unsafe behaviors and conditions
We invite you to get to know us better and to become part of our team. Discover your career plus in specialty chemistry. Please send us your application, preferably via our jobmarket www.altana.jobs
Requirements
Qualifications:
Overall GPA of 3.0
Chemistry and/or Chemical Engineering and/ or Polymer and Coating curriculum
Strong problem-solving skills
Hands-on laboratory experience to manage laboratory trials and generate application data
High degree of attention to detail as well as strong verbal and written communication skills
Knowledge & Skills:
Highly motivated, self-starter individual able to initiate experiments and procedures with minimal supervision
Team oriented and able to interface positively and supportively with other members of the laboratory staff
Flexible and adaptable, adjusts well to a changing environment
Has good attendance and is dependable
Willing to learn new concepts, chemistry and chemical analyses related to specialty chemical additives/coating industry
more
Our Plus
In the ALTANA Group, you will work in a unique culture of innovation where the utmost importance is attached to promoting individual ideas and abilities as well as open, trusting interaction.
Job number:
US00598
Legal entity:
BYK USA Inc.
Location:
Wallingford
About us
BYK Additives & Instruments is one of the world's leading suppliers in the field of additives and measuring instruments. Around the world, the additives of BYK ensure that coatings and plastics obtain precisely the desired properties and the correct quality.
more
ALTANA AG and its subsidiaries is an equal opportunity employer. All qualified applicants will receive consideration for employment without regard to race, religion, color, national origin, sex, sexual orientation, gender identity, age, status as a protected veteran, among other things, or status as a qualified individual with disability.
---