ALTANA Innovation Conference
The specialty chemicals Group ALTANA focuses on and commits to research and innovation. Around 160 top researchers and developers of the ALTANA Group from all over the world came together at the 6th ALTANA Innovation Conference in Wesel to discuss technical as well as economic developments and future innovative trends. As a highlight of the international event, the group's best innovation is honored with the ALTANA Innovation Award.
Coating innovation awarded
This year, the coveted ALTANA Innovation Award went to the project team of Frank Kamphuis, Tim Kammer, Marcel Altenburg, and Timo Kondziela, from the ACTEGA division. The development of special coatings for in-mould labels (IML) for the labeling of plastic packaging was awarded. Any structured or printed foil is placed in a casting mould for the packaging and liquid plastic is extruded into the form. The individual steps are performed at high speed, and the technology used is one of the most complex procedures in the packaging industry. To ensure accurate processing at such speeds creates new challenges for printers and packaging manufacturers.
It quickly became clear to the researchers of the ACTEGA team that standard coatings would not be able to meet the high requirements. Completely new development approaches were required. Joined together specifically for this purpose, a team of experts developed a solution by combining product and process innovations. As part of their research, the developers identified new raw materials and used innovative formulation strategies. Not least thanks to the positive interaction between technology and marketing, ACTEGA can now speak of a resounding success. Its subsidiary ACTEGA Terra today is the European market leader for IML coatings in a still dynamically growing market, which promises a bright future for this product group.
Chief Technology Officer (CTO) Dr. Georg F.L. Wießmeier about the award: "Without doubt, ALTANA attaches high priority to innovation. Our innovation culture is clearly demonstrated and practiced through events like the ALTANA Innovation Conference." Wießmeier continued: "We owe our leading position in particular to our determination to perfect our products continuously, and to develop new ones to meet the needs of our customers and to exceed their expectations." He praised all the teams who competed with great dedication for the ALTANA Innovation Award 2013.
For ALTANA, innovation is the pivotal key to further growth. With research and development expenditure of more than 6% of its sales, which is clearly above the industry average, ALTANA secures its technological edge and provides its customers with unique, innovative products and services. New developments are investigated together with the customer, for the customer, and in close proximity to the customer. More than 50 laboratory and research sites worldwide offer customers innovative solutions in the area of surface protection and surface finishing. Every fifth ALTANA employee worldwide works in research or application technology.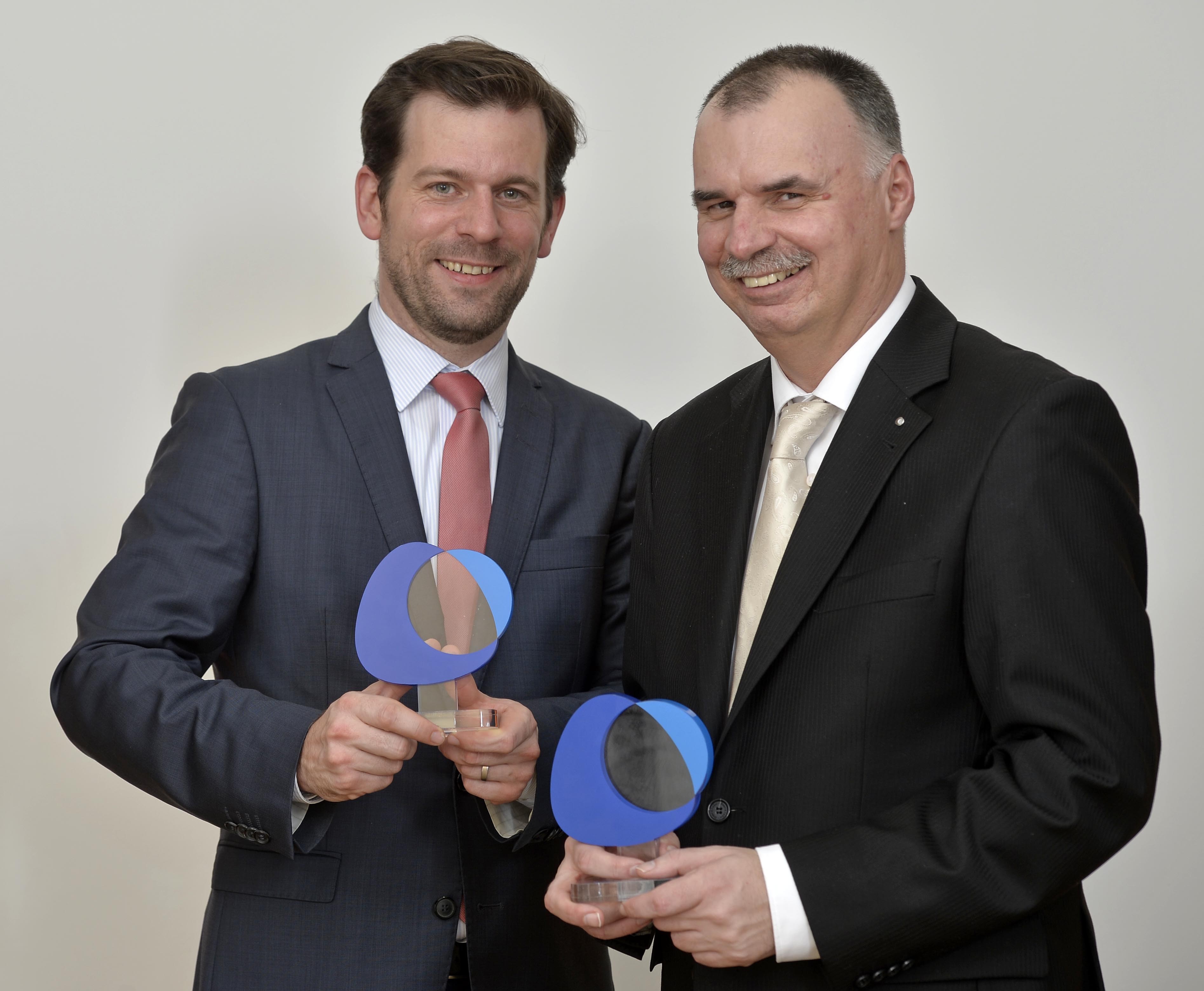 The ALTANA Innovation Award 2013 goes to the winner team of ACTEGA Terra: Timo Kondziela (left) and Frank Kamphuis (right) received the award in Wesel, also on behalf of Tim Kammer and Marcel Altenburg.
About ALTANA:
ALTANA develops and produces high-quality, innovative products in the specialty chemicals business. The ALTANA Group, with headquarters in Wesel/Germany, is a genuine "global player" with about 85% of its sales generated by international activities. The ALTANA Group has four divisions: BYK Additives & Instruments, ECKART Effect Pigments, ELANTAS Electrical Insulation, and ACTEGA Coatings & Sealants. All of these divisions occupy a leading position in their target markets with respect to quality, product solution expertise, innovation and service.
ALTANA offers innovative, environmentally compatible solutions with the matching specialty products for coating manufactures, paint and plastics processors, the printing and cosmetic industries, and the electrical and electronics industry. The product range includes additives, special coatings and adhesives, effect pigments, sealants and compounds, impregnating resins and varnishes, and testing and measuring instruments. At present, the ALTANA Group has 46 production facilities and more than 50 service and research laboratories worldwide. Throughout the group about 5,700 people work to ensure the success of ALTANA worldwide. In 2012, ALTANA achieved sales of more than 1.7 billion euros. Its impressive earning power and high growth rate make ALTANA one of the most successful and innovative chemical groups worldwide. www.altana.com