Our Path to climate neutrality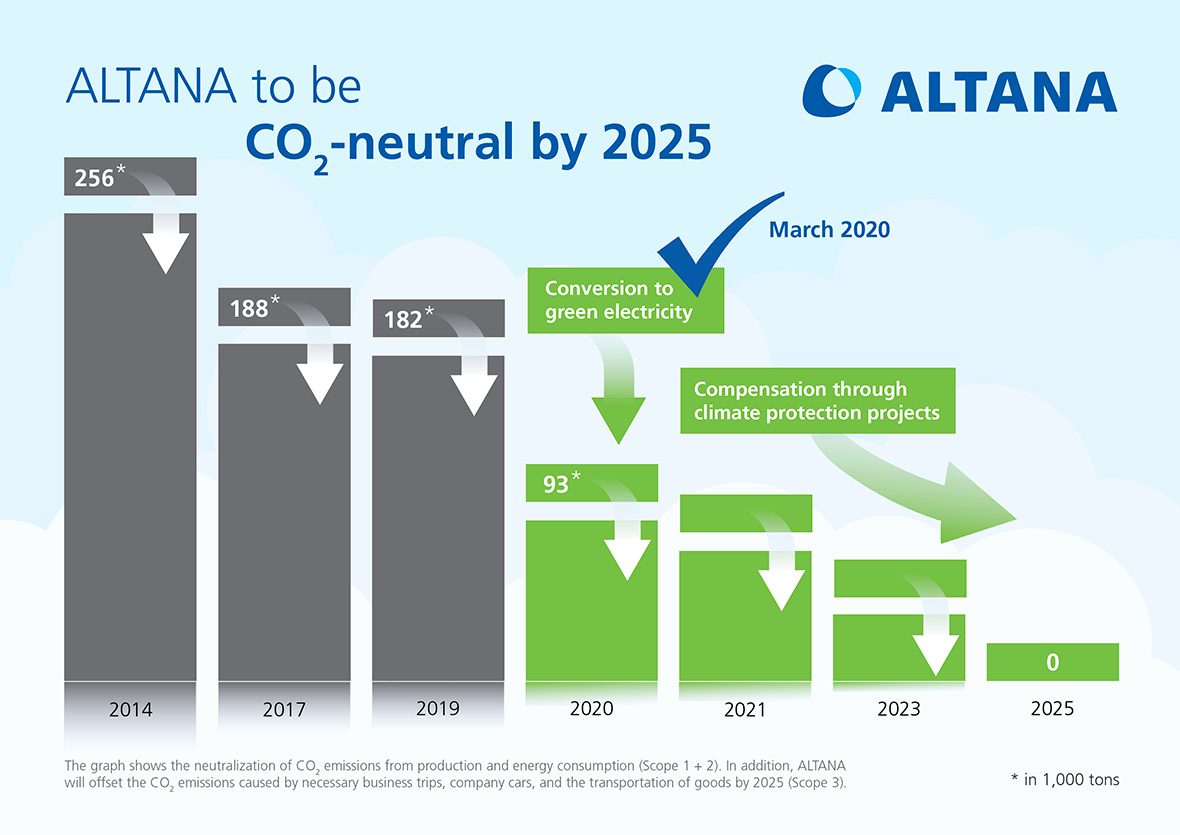 By 2025, we will reduce our CO2 impact from production and energy procurement to zero worldwide. Already in March 2020, the power supply at all locations was converted to renewable energies. ALTANA will compensate for the unavoidable use of natural gas until 2025 by financing equivalent climate protection projects in the regions where CO2 emissions are generated. The same applies to offsetting CO2 emissions arising from necessary business trips, company cars, and the transport of goods. The specialty chemicals group will thus achieve climate neutrality in its direct sphere of influence by 2025.
In order to further reduce its CO2 emissions, ALTANA is relying on greater energy efficiency as well as heat and electricity generation at its worldwide sites. In the long term, renewable energies should also replace natural gas as a source of energy. In addition to the existing solar systems at ELANTAS in Ascoli Piceno, Italy, and at BYK in Deventer, the Netherlands, a further photovoltaic system went into operation at ELANTAS in Pune, India, which covers the electricity requirements of the new research center at this site. In Collecchio, Italy, ELANTAS is currently constructing another photovoltaic system for a new production and laboratory building.
Aside from the measures at its own sites, ALTANA is setting up a program in close cooperation with its suppliers to consistently further improve the CO2 balance of purchased raw materials, too. This makes ALTANA one of the companies that consider the CO2 emissions of their entire value chain.
Call to politics: Significantly stronger and faster promotion of renewable energies necessary
Questions and answers regarding CO₂ neutrality at ALTANA
1. When ALTANA talks about achieving global neutrality with its CO₂ emissions by 2025 – which emissions does this include?
The neutral position encompasses our production, administration, and research. This includes CO2 emissions resulting from the combustion of fossil fuels (mainly natural gas – 90%) (Scope 1), as well as indirect CO2 emissions from energy consumption, especially in the form of electricity (96%, Scope 2).
In addition, the neutral position until 2025 also includes CO2 emissions caused by necessary business trips, company cars, and the transport of goods (Scope 3). All values are calculated according to the international guidelines of the Greenhouse Gas Protocol (GHG).
2. How high will the CO₂ emissions savings be? 
We will reduce our CO2 emissions from production and energy procurement (Scope 1 and 2) from 190,000 (2018) to zero by 2025. In addition, ALTANA will compensate for CO2 emissions caused by necessary business trips, company cars, and goods transport by 2025 (Scope 3). As a specialty chemicals company, ALTANA has relatively low energy requirements compared to other companies in the chemical industry. ALTANA's CO2 emissions in relation to produced volume are about 30 percent lower than the industry average. Nevertheless, we strive to use all energy sources efficiently in order to keep ALTANA's CO2 emissions in relation to the volume produced as low as possible and to increase the share of energy from renewable sources (for example sun, wind, and water). In this way, we are minimizing our dependence on energy from fossil sources.
We have set ourselves the target of reducing our already low energy requirements by 2 percent in relation to produced finished goods each year, even with increasing sales.
3. What new technologies does ALTANA rely on to achieve energy savings? For example, is hydrogen an issue?
We are consistently pursuing our sustainability course. For the planned energy savings, we are relying on technically proven energy efficiency measures such as the use of even more efficient heating systems and the deployment of waste heat from production. Thanks to these measures, in 2017 we already achieved the goal we set ourselves in 2007 of reducing CO2 emissions in relation to gross value added by 30 percent by 2020. In addition, we are stepping up the use of heat pumps and highly efficient electric motors.
In the coming years, ALTANA will deal with the future issue of using "hydrogen" as an energy source instead of natural gas. The decisive factor will be the sufficient economically viable availability of hydrogen from renewable sources (for example photovoltaics; transport via pipeline, bulk delivery or own production).

4. How can the two ALTANA goals of "CO₂ neutrality" and "growth" be reconciled?
ALTANA has always stood for sustained profitable growth. And so we continue to invest in our future even without an economic tailwind. This includes the implementation of CO2 neutrality. We will be climate-neutral by 2025 even with increasing sales. As a result, we are not only fulfilling our responsibility regarding climate protection, but also strengthening ALTANA as a company in the long term. Because we are convinced that we can only be economically successful in the long run if we bear in mind ecological and social aspects and firmly anchor them in our company.
Sustainability has been a growth area at ALTANA for many years now. Because our solutions make everyday products better and more sustainable. There are already many examples of this, and we are constantly working on new sustainable solutions for our customers.
5. Why is only CO₂ considered in the 2025 target? How is ALTANA dealing with other greenhouse gases?
Due to ALTANA's orientation as a pure specialty chemicals company, other greenhouse gases are emitted only to a very low extent.
6. What criteria does ALTANA use when selecting climate protection projects for CO₂ compensation? How does the company ensure that the CO₂ reduction is actually achieved to the required extent?
We are very careful about the projects we select and follow current certifications such as the "Gold Standard." The spectrum ranges from investment in hydropower in China to reforestation of the rainforest in Brazil.
7. CO₂ neutrality applies to the entire company, that is, globally. How is this goal implemented in Asia / China, for example? 
At ALTANA, the operating companies are basically responsible for implementing and anchoring sustainability. ALTANA's corporate goals for protecting the environment and climate have been included in the calculation of the variable income of the top management since 2007. In this context, the individual companies and their managing directors undertake to continuously reduce the environmental impact of the company's business activities and to steadily improve safety at the respective sites. In addition, it is the task of the individual sites to introduce suitable management systems and have them certified. Furthermore, special cross-divisional expert platforms serve to exchange information on relevant topics and identify best-practice models. There are no geographical differences. Our ECKART division's site in Zhuhai in southern China, for example, was one of the first in the ALTANA Group to successfully complete the recognized TfS audit (Together for Sustainability).
The goal of climate neutrality by 2025 is also integrated into the various target agreements. In this regard, the ALTANA competence center Corporate EH&S, together with ECKART GmbH's purchasing department, is coordinating the switch to green electricity starting in 2020 and the compensation for CO2 emissions caused by natural gas, company cars, business travel, and goods transport through corresponding climate protection projects until 2025.
8. By when does ALTANA intend to switch from natural gas to renewable energy?
In the long term, ALTANA also wants to replace the use of natural gas with renewable energies. This will take several years, however, since many of our production technologies are still based on this energy source.
9. By when will the raw materials that ALTANA purchases also be climate-neutral?
This depends on our suppliers and, to a large extent, on politics. Without sufficient available electricity from renewable energies at competitive prices and a corresponding grid infrastructure, the climate protection goals cannot be met throughout the industry.
10. In the context of the target of CO₂ neutrality, does ALTANA have new internal guidelines on travel behavior and the allocation or use of company cars?
Our colleagues are already encouraged to travel in the most climate-friendly way possible. In cases where company cars are required, we create incentives for the use of CO2- saving models.