A team from Schloss Hansenberg boarding school was awarded the Special Prize in Chemistry at the 2023 JUGEND GRÜNDET national finals.
With their business idea, the students were among the best of 868 teams that submitted a business plan in the current competition year.
The team can look forward to a trip to ALTANA AG's research site in Wallingford near New York (U.S.).
Joel Albrecht, Jakob Hammerschmidt, Maxim Düll, Jan Ecker, and Tijan Ballhausen from Schloss Hansenberg boarding school won the ALTANA Special Prize in Chemistry in the JUGEND GRÜNDET student competition. At the national finals on June 28, 2023, the students were honored by ALTANA AG for their FlexProtexx business idea.
The FlexProtexx is a new type of knee and elbow protector for roller sports that provides optimal protection and at the same time maximum flexibility and freedom of movement for skaters. This is made possible through the use of material with non-Newtonian properties. This material hardens immediately under force, as in the case of a fall. When there is no force, however, the fabric behaves almost fluidly and is freely deformable and thus does not interfere with the sport.
"For product solutions to become successfully established on the market, they must be developed based on customer needs. In this way, innovative special solutions enable sustainable progress. It was impressive to see the entrepreneurial spirit, professionalism, and customer focus with which the student team worked on their development," says
Dr. Thomas Kostka, Head of Corporate Venturing at ALTANA AG.
With the Special Prize, ALTANA AG honors an outstanding idea in the field of chemistry in the competition. The team convinced the jury above all with a clearly defined business model including potential business partners, customers ready to pay, and a strong USP.
The winners Joel, Jakob, Maxim, Jan, and Tijan can look forward to a trip to Wallingford in the United States. There they will visit one of ALTANA AG's largest research sites as well as nearby New York City for some sightseeing.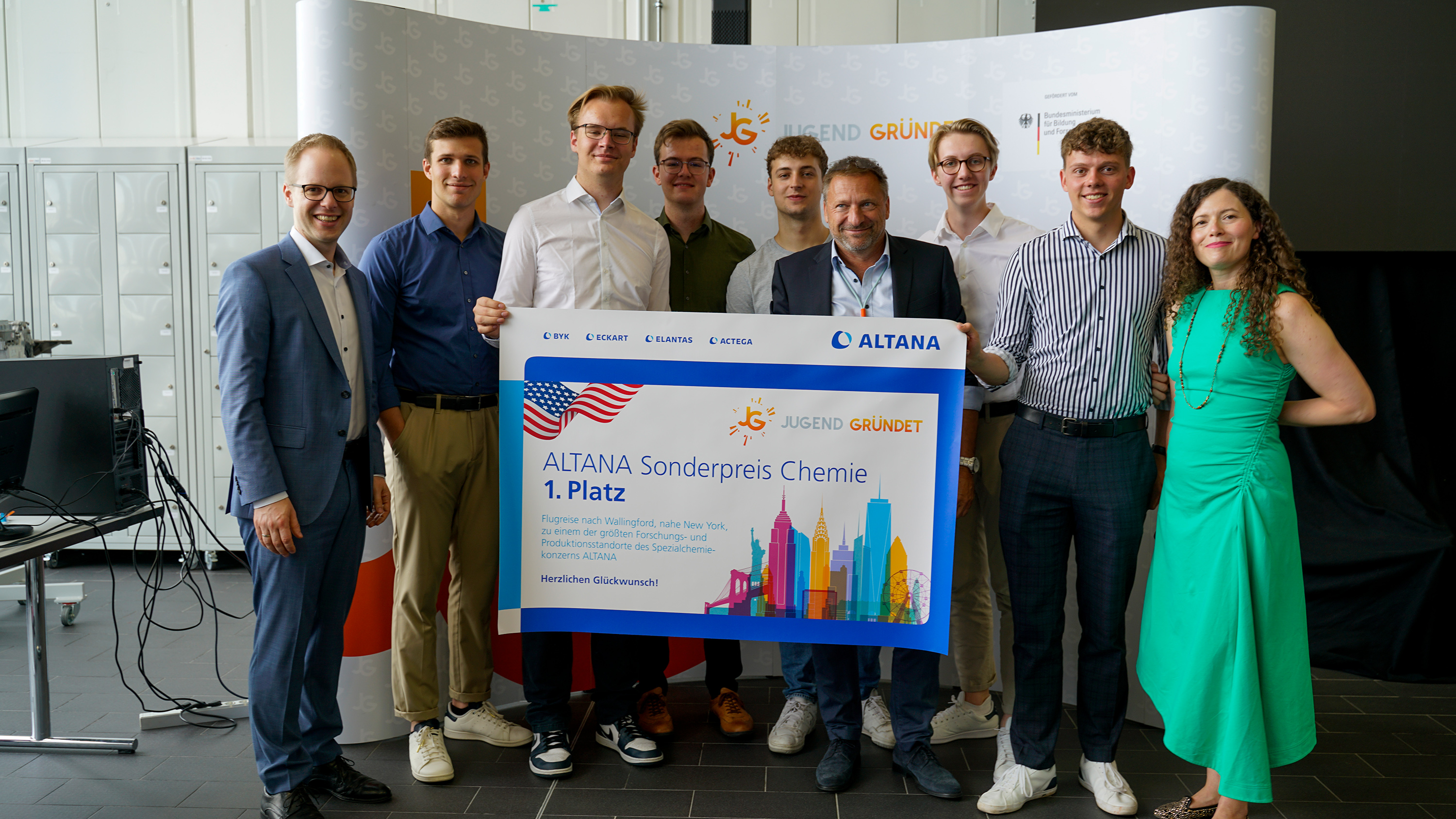 One of the best of 868 business plans
The five students submitted one of the best business plans submitted in the current competition year for their FlexProtexx business idea. In the nationwide student JUGEND GRÜNDET competition, participants take on the role of founders for one school year, develop a (fictitious) business idea, write a business plan, and run a virtual company in a business game. In the 2022-2023 competition, 868 business plans were submitted, and a total of 4,822 students took part.
Prior to its participation in the JUGEND GRÜNDET competition, the FlexProtexx team had already been successful in business@school, an educational initiative of the Boston Consulting Group.
Two other teams from the Schloss Hansenberg boarding school qualified for the finals and were also successful: the "dStudy" team was awarded the Porsche Special Prize Digital Future for its digital writing learning aid, while the "bcCertify" team secured the Business Game Special Prize.
National finals: Highlight of the competition year
At the JUGEND GRÜNDET national finals, which were held at the premises of the main sponsor Porsche AG in Stuttgart, the ten best teams of the competition year presented their business ideas. The Future Ideas Fair will decide who wins the national prize and thus the grand prize, a guided trip to Silicon Valley in the U.S. In addition, thematic special prizes will be awarded.
This year's national winner went to Johannes Huber, Elnar Askarov and Lucas Li from the Monastery School vom Heiligen Grab in Baden-Baden (Baden-Württemberg) for their business idea "TheHänger", a new type of foldable clothes hanger.
Twenty years of JUGEND GRÜNDET: Endless ideas to shape the future!
Developing solutions to problems and shaping the future with innovative ideas – that is the core idea of JUGEND GRÜNDET. The online competition, which is celebrating its 20th anniversary in the current school year, aims to inspire young people to start their own businesses and to strengthen students' startup skills. For two decades, over
70,000 schoolchildren have taken part in JUGEND GRÜNDET, and over 10,000 business plans have been submitted.
"The world needs innovative ideas to meet the challenges of the present and the future. After 20 years of JUGEND GRÜNDET, we can proudly say: There is no lack of inventiveness and innovative spirit! The participating students demonstrated both again this year – especially at the national finals. That makes me very hopeful," says project manager Franziska Metzbaur.
Sponsors and supporters
The JUGEND GRÜNDET online competition has been sponsored by the German Federal Ministry of Education and Research since 2003. Participation is recommended by the Standing Conference of the Ministers of Education and Cultural Affairs of the Länder. A number of renowned sponsors support the competition regarding prizes and events. The main sponsor is Porsche AG.
Detailed information on the JUGEND GRÜNDET national competition can be found here: www.jugend-gruendet.de
Caption
Tijan Ballhausen, Jakob Hammerschmidt, Maxim Düll, Joel Albrecht and Jan Ecker from Geisenheim were awarded the ALTANA Special Prize in Chemistry at the "JUGEND GRÜNDET" national finals 2023.
Also in the picture: Dr. Jens Brandenburg, Parliamentary State Secretary at the Federal Ministry of Education and Research, Franziska Metzbaur, Project Manager JUGEND GRÜNDET, Dr. Thomas Kostka, Head of Corporate Venturing, ALTANA AG, and Julius Jung, FlexProtexx

_____________________________
Your contacts for questions:
Dorothee Riegner
JUGEND GRÜNDET im SIZ, Blücherstr. 32, 75177 Pforzheim, Germany
Tel.: +49 7231-42446-14, riegner@remove-this.szue.remove-this-also.de
Andrea Neumann
ALTANA AG, Abelstraße 43, 46483 Wesel, Germany
Tel +49 281 670-10300, press@remove-this.altana.remove-this-also.com
_____________________________
JUGEND GRÜNDET - Chancen erkennen. Zukunft gestalten – Recognizing opportunities for shaping the future.
www.jugend-gruendet.de
E-Mail: info@remove-this.jugend-gruendet.remove-this-also.de
Information hotline: +49 7231 42446-27

About ALTANA:
ALTANA is a global leader in true specialty chemicals. The Group offers innovative, environmentally compatible solutions for coating manufacturers, paint and plastics processors, the printing and packaging industries, the cosmetics sector, and the electrical and electronics industry. The product range includes additives, specialty coatings and adhesives, effect pigments, sealants and compounds, impregnating resins and varnishes, and testing and measuring instruments. ALTANA's four divisions, BYK, ECKART, ELANTAS, and ACTEGA, all occupy a leading position in their target markets with respect to quality, product solution expertise, innovation, and service.
Headquartered in Wesel, Germany, the ALTANA Group has more than 48 production facilities and 63 service and research laboratories worldwide. Throughout the Group, about 7,000 people work to ensure the worldwide success of ALTANA. In 2022, ALTANA achieved sales of more than € 3 billion. About 7 percent of the total sales is invested in research and development each year. Its high earning power and high growth rate make ALTANA one of the world's most innovative, fastest growing, and most profitable chemical companies.