Offsetting on the way to climate neutrality
Carbon offsetting measures are important elements on the way to a sustainable, climate-neutral economy. This also applies to ALTANA worldwide. The challenge is to identify suitable offset projects that achieve the greatest possible effect, for example in Brazil.

She ensures that the best and most effective climate protection projects are supported in order to compensate for hitherto unavoidable greenhouse gas emissions. To this end, she works with one of the most prominent research institutes devoted to rainforest protection.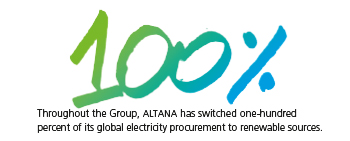 Daniela Coan is Industrial Manager Operations and Research at ELANTAS do Brasil in Cerquilho. In this capacity, she is responsible for the site's carbon footprint. The focus is on sustainable management of resource consumption, particularly in the field of energy. Back in 2020, ALTANA switched its global electricity procurement Group-wide to renewable sources. In Germany, a Power Purchase Agreement has been in place since the beginning of 2021. As a result, ALTANA buys green electricity directly where it is generated.
The issue is also a top priority in Brazil. "We want to keep our carbon footprint as low as possible. To this end, we are making targeted investments in a green energy matrix, are procuring more and more energy directly from 'green' contractors, and have installed technical devices for environmentally compatible energy management at our plant. This enables us to operate in an increasingly energy-efficient manner. Furthermore, we are conducting studies to find out how we can completely dispense with fossil fuels as quickly as possible," explains Daniela Coan.
Entire production processes must be replaced by new technologies
But this cannot be realized in the short term in all cases, because many production processes are still based on natural gas and must first be replaced by new technologies. In 2021, ALTANA invested for the first time in offset projects in accordance with the United Nations Sustainable Development Goals. In addition to reducing its own greenhouse gas emissions, ALTANA is also compensating for the unavoidable use of natural gas until 2025 by financing equivalent climate protection projects in the regions where the emissions occur. In the meantime, the company is supporting corresponding initiatives in the Chinese provinces of Hebei and Zhejiang as well as in the Indian states of Andhra Pradesh and Himachal Pradesh. In India, for example, ALTANA is supporting a project for generating energy from hydropower in the district of Kinnaur, and providing support for an initiative for sustainably generated electricity from wind in the district of Ananthapuramu. Both initiatives help reduce the high proportion of environmentally harmful coal-fired electricity production and promote the increased use of renewable energy sources to meet the country's growing energy needs.
For Daniela Coan, it is important that the initiatives have a visible and tangible effect. | Together with experts from the Luiz de Queiroz College of Agriculture of the University of São Paulo, Daniela Coan and her team are evaluating several approaches for conserving the Atlantic coast forest.
Cooperation with universities and institutions
To ensure that the best and most effective offset projects are chosen, ELANTAS collaborates with universities in Brazil. An example is the Luiz de Queiroz College of Agriculture of the University of São Paulo, one of the most distinguished research institutes when it comes to rainforest conservation. Its experts are currently working with Daniela Coan and her team to evaluate several approaches to conserving the forest on the Atlantic coast. "With our involvement, we want to demonstrably contribute to protecting biodiversity and natural resources," explains Daniela Coan.
For Daniela Coan, it is important that the initiatives have a visible and tangible effect: "I firmly believe that we must make a contribution to ensuring that future generations will be left a world worth living in. So it is all the more important to know exactly where to invest most effectively on a local level. Offsetting can only be effective if it is pursued in a targeted and strategic manner. This is how we are building meaningful bridges to the energy transition."