The recycled raw materials market is growing. Through collaboration along the entire supply chain, sustainable products can be created from them.
Massimo Grifone is Commercial Director at Cauvin Metals. The company, based in Genoa, Italy, has been active in the distribution of non-ferrous metals and steel products since 1890.

Annika Mergner is Head of Marketing & Technical Service Automotive Coatings at ECKART. Across all market segments at ECKART, she is working on increasing the use of high-quality secondary aluminum.
On the topic of secondary aluminum: What trends can be observed?
ANNIKA MERGNER: In Europe, requests for sustainable solutions and the possibility of using recycled aluminum are increasing. This development can also be observed worldwide. ECKART plans to use secondary aluminum in production starting this year. In concrete terms, we are relacing primary aluminum proportionally with recycled aluminum. As a result, we are improving the carbon footprint of our products.

Mr. Grifone, how are you responding to this change as a retailer?
MASSIMO GRIFONE: We are supporting this development by bringing together the requirements of manufacturers such as ECKART and the specifications that producers of recycled aluminum can deliver. As a family business with over 130 years of tradition, Cauvin Metals has changed many times. Our recipe for success is open communication.

What is driving the demand for recycled aluminum?
MASSIMO GRIFONE: Secondary aluminum is becoming competitive! There are many reasons for this, two of which I would like to highlight. On the one hand, the carbon tax is increasing the price of primary aluminum. In addition, the growing demand is giving rise to new development and research projects that are boosting the quality of recycled aluminum.
ANNIKA MERGNER: By using high-quality secondary aluminum, we are making a contribution to reducing carbon emissions across the entire value chain. To fully exploit the potential, ECKART is developing products that are based up to 100 percent on recycled aluminum. In doing so, we work closely with customers, designers, and raw material suppliers along the entire supply chain. Only together can we initiate change and develop sustainable product solutions.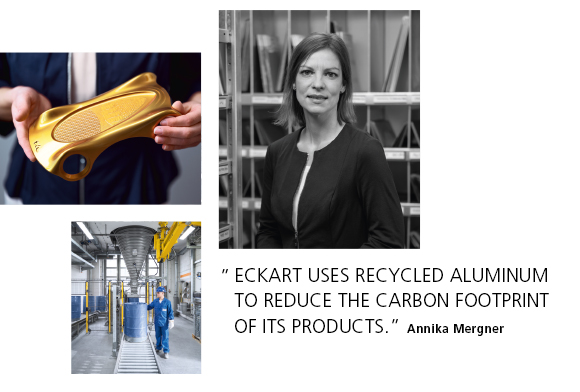 How can we ensure that products made from secondary aluminum meet our high standards of quality?
ANNIKA MERGNER: An iterative development process is the key to success. Feedback from our customers regarding optical properties, purity, and durability is particularly important. This enables us to increase the quality, develop solutions explicitly for a specific market, and make products more sustainable in the long run.
MASSIMO GRIFONE: We have already taken a big step together to reduce the carbon footprint of the products. We buy sustainable aluminum for ECKART, which is produced using renewable energies. ECKART was the first customer with whom we concluded contracts for the purchase of sustainable aluminum. As a consequence, the company has transformed our business activities.

Is sustainable aluminum an alternative to secondary aluminum?
ANNIKA MERGNER: The interplay is decisive. We have to coordinate the use of resources from different sources. In this way, we can utilize our resources responsibly, also with an eye to future generations.
MASSIMO GRIFONE: The positive effect must be made visible. To achieve this, we need to measure the impact of our actions in a consistent way. That's why I'm involved in the Rocky Mountain Institute's "Horizon Zero" program, which aims to develop a uniform definition for calculating a carbon footprint. Trusting exchange with ECKART provides valuable information to this end.